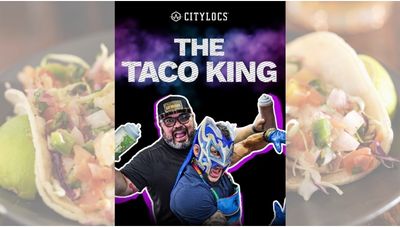 The Taco King Hits The Road With Custom CityLocs Hats
If you haven't heard of Eatmigos, are you actually a food lover? Chris Flores started Eatmigos in 2018 as a
vlog style
food show with the main focus being the best tacos in San Antonio, Texas. In 2020, after SA Living aired an Eatmigos segment in their broadcast, Chris decided to add all types of food to his menu. Since then he's been creating non-stop, including his own CityLocs custom
license plate hats
.
According to Chris, the definition of Eatmigos is:
Friends enjoying food together (especially TACOS)
A really bad a$$ YouTube channel that showcases food through my lens
Chris films himself eating food and then showcases each restaurant on his Eatmigos channel and tells you what to get once you're there. What makes this different from other food channels? Chris brings his natural flair and fun personality to each video. And he partners with local artists to hype them up and give them a platform too.
CityLocs X Eatmigos
Like many businesses, Chris found CityLocs through a Facebook ad, saw the Texas License Plate hat and immediately hit the "Learn More" button. He ordered his hat instantly!
With a wildly active in-person and social media presence, Chris knew that the best way to stand out and rep his brand was by creating custom-fitted hats. And so his partnership with CityLocs was born. Chris loved the quality of our design and the flexibility to make each style his own. He now has a wide collection of CityLocs hats including custom license plate hats and custom trucker hats. Creating and wearing custom-fitted hats is more than just personal style. It's an investment in his business.
When you're wearing a hat as eye-catching as our license plate hats, you're doing more than making a fashion statement. You're creating hype around what you do.
Think about the brands you recognize the most. Maybe it's the iconic Swoosh or a pair of golden arches, what do these have in common? They're easy to remember graphics that stick to your memories. When you're wearing a custom-fitted hat with your brand name, people remember it.
Tell the world what you're about
Since he first started Eatmigos, Chris has had an incredible opportunity to collaborate with tons of mom-and-pop owned restaurants as well as local artists, celebrities, and food leaders. He's taken his CityLocs custom fitted hats with him the entire way.
Customizing your own CityLocs hat shows the world how passionate you are about your brand and your business. Plus, we make it a super easy process. We believe that finding a unique design and style should feel like a breeze. We know you want to customize a hat that stands out, pulls people in, and creates a personal connection.
Make a Statement
When you order your custom-fitted hats from CityLocs you know that you're getting the highest quality products at the most affordable investment with the highest value return. Our hats are long-lasting, durable, and last through years of wear and tear. Plus, we don't require a minimum order so you can experiment until you find the best style and design.
 With a wildy active social media presence, Chris needed a way to stand out and rep his brand. Chris stumbled upon our custom hats on Facebook and instantly ordered some for his business.
Featured Products
Texas License Plate Hat
Just like Eatmigos, your CityLocs Texas License Plate hat can be as unique as your brand. Choose your hat style: Snap Back, FlexFit or Trucker. Then, choose from over 14 colorways and patterns. Different styles, patterns, and custom text options mean you can make this hat all yours.
Wood Jax Hat
Want a custom hat that's sure to be a conversation starter? Go with a CityLocs custom Wood Jax hat, they're anything but average. Red, Black, or Blue, they're the best way to stand out and make a statement. Your wood veneer patch has space for custom text to make this hat undeniably tailor-made.
Custom Snapback hats
Nearly every single one of our CityLocs designs can be customized on a SnapBack hat. You can create a distinct look with a US License Plate hat, Mexican License Plate hat, or a US State Flag hat. Or go with a more traditional look by choosing an Engraved Leather hat or a Work Hat. Have fun with a Street Sign hat or a Printed Leather hat. So many options for you to create your very own CityLocs custom Snapback Hat.
QUESTION? COMMENT?
to contact us.