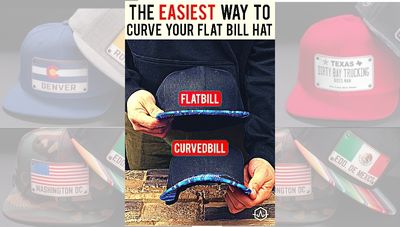 Curved Hats vs. Flat Brim Hats
If you're into hats you know that there is a constant battle between the people that like their brim curved and the people that like their brim flat. Here at CityLocs, we like all styles of custom hats, but we understand that you, our incredible customers, like to have options.
We don't blame you, we'd want options too!
In the '90s (ah yes, the good 'ole days), curving the brim on your baseball cap was THE thing to do. It was a symbol of angsty teen rebellion and dang it was cool!
But just like any fashion trend, it shifted. By 2010, the super-stiff flat brim snapback was the dominant look amongst teens and headwear connoisseurs alike.
Of course since then, fashion trends have changed, yet again. But the best part about the 2020's? You can literally wear any hat style and be in style. And we love it!
That's why we try to offer most of our hat designs in every single style: Snapback, FlexFit, and the classic curved bill Trucker Hat (that means you can get a US State Flag Hat in any style you want).
How to make your Flat Bill Hats into Curved Bill Hats
A flat bill or flat-brimmed hat is a style that is said to have originated from California, specifically Oakland. A flat bill hat is the ultimate fashion accessory when it comes to urban streetwear.
In the last few years flat bill hats have even made headlines in Major League Baseball with some people loving the look while others think it "unprofessional" (insert your eyeroll here).
Curved bill hats, the classic baseball cap, have been around since the mid 1800s. They;'ve been used in athletics, in the military, and even in certain police units around the world!
But like anything, the bill of your hat is a personal choice. It's a statement you make every single time you step out of the house. And if you don't enjoy the flat brim look, and let's be honest, it's not for everybody, you can turn your flat bill hats into curved bill hats.
A Timeless Classic
So you ordered a License Plate Hat in a flatbill style and realized you don't like it, maybe you even hate it. Don't worry we've got you covered! You don't have to rehome your hat or spend money buying curved hats! We have a two-step, tried and true process that we use. Check it out below.
Step 1
Grab your flat bill hat and turn it over. See the two sections where the brim meets the cap? Take those sections and pull them together. At this point your flat bill should look like a funnel.
Hold the bill in place for 30 seconds. NEVER (and we mean never) fold the bill. The bill should be curved at this point.
Step 2
You're gonna wrap your brim burrito style! Working with the same sections (where the brim meets the cap) you'll tuck one end under the other and squeeze until the brim looks like a cylinder (or a burrito - anyone hungry yet?).
Hold the bill in this position for another 30 seconds.
Step 3 - There is no Step 3!
Let go of the brim and flatter it out to your desired curve.
That's it! You're done. 
You have a sure-fire way to make your flat bill hats into curved bill hats! No materials needed.
Curve Your Enthusiasm
But wait! Before you go crazy turning all of your flat billed hats into curved bill hats, take a second and think. Are you curving all of your hats because:
You just don't like the way flat bill hats look on you? Or….

You feel like curved hats are trending right now?
If you answered B, wait just one second! Instead of making all your flat bill hats curved, why not grab a few new hats to round out your collection? That way, when the trend winds blow again, you'll still have your favorite flat brim hats ready to wear.
Curved Bill Trucker Hat
License Plate Hats
All of our License Plate Hats come in the Trucker style. That means showing off and repping your state is easier and more stylish than ever. Plus, this hat is completely customizable. You can add up to 16-characters of custom text and a second line of sub-text. Each license plate patch is unique and made from organic material; that means it's truly one-of-a-kind.
Work Hats
All of our classic Work Hats come in a curved bill trucker hat style. These hats are perfect for you if you're a small business owner and want to show off your biz in a simple, no-fuss way. We have over 14 designs that cater to contractors, trucking, towing, landscaping, fitness and boxing, the list goes on! You can make this hat all yours by customizing the leather patch with your unique text and choosing from six different color options. Plus with our no minimum order requirement, you can order as few or as many hats as you need. With a wide range of hat styles, colors, and designs to choose from, you can create a hat that truly reflects your personality. So, whether you're looking for a special gift or just want to treat yourself to something unique, be sure to check out our custom hats no minimum service today!
If you're thinking of getting custom hats to help promote your business, than checkout our detailed blog post on how custom hats can be a game changer for promoting your business
Let's stay connected! Hop on over to our
Insta page
and hit that follow button to unbox video, new products, and customer reviews.