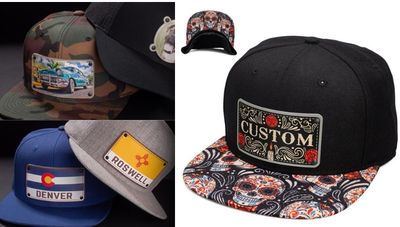 Guide to Creating Custom Hats for Your Business
Pick the style & design that lights up your brand
Nothing compares to a bold message on a custom hat! But how do you choose the style and design?
First, let's take a closer look at styles...
The Trucker Hat
Born in the 60s as a promotional giveaway from farm supply companies to rural workers. This hat keeps coming back; the Trucker hat trend caught on in the 70s and again in the early 2000s. There's something super personal about a Trucker hat. Think about your grandfather gardening with his Trucker hat on. It's a safe and comfortable choice for your business, plus it looks good on everyone! Get your custom hats no minimum from Citylocs today.
The Snapback
The Snapback has been around for more than 100 years! But gained popularity in the 90s in New York & LA on the hip-hop scene. This is the hat worn by legends and fashion icons. It's the custom hat that you order for your business if you want to make a statement. Get your custom Snapback hats no minimum today.
The FlexFit
The baby of the group, FlexFit® appeared in the mid-90s and immediately created a scene. They paired with huge brands that helped to grow their popularity. The unique technology made it one of the most comfortable hats on the market. FlexFit is the perfect choice to keep your people looking fresh and feeling comfy. Get your custom Flex hats no minimums, right here.
Now that you've chosen the perfect style, let's check out some personalized designs
There's a ton of options when it comes to creating custom hats. But most places need you to jump through hoops and submit a bulk order.
At CityLocs, our completely custom hats, no minimum order, designs are crafted to perfection. They're refined to help you show off your bold brand and it's super simple to submit your order of 1, 100, or 1000 hats.
The Work Hat
So your business is booming and you haven't had a chance to create your branding yet? No worries! CityLocs' Work Hat is perfect for you. The Work Hat has six colors to choose from, two lines to personalize and 14 designs (from auto shops to gyms, to restaurants and everything in between) to pick from.  With no minimum order, you literally can't go wrong with this custom Trucker hat.
The License Plate Hat
Have a multi-state brand or just ridiculously proud of where you started? The License Plate Hat helps you rep wherever you are! This design is one of our most adaptable designs with three different styles and 18 different colors available, and no minimum order, every single person in your company can wear the custom hat they want.
Engraved Leather Hats
Different shapes, designs, images, styles, and text options make this collection the most versatile option for your custom hats. You can have it all with City Locs' engraved leather collection. Fun, professional, and unique, the Engraved Leather Patch Hat collection even has a Dad Hat style available.
Now what…?
You've seen three different styles and three different designs, how are you supposed to choose? Here's a few ideas:
If your small business is laid-back and still growing, a good option is a custom Trucker hat from the Work Hat collection. Design options include: 
- Auto Body                             - Painting
- Boxing                                   - Plumbing
- Tire Shop                              - Welding 
- Electric                                  - Towing 
- Fitness                                  - Trucking
- Landscaping                         - Construction
- Mechanic                              - Restaurant
If you have a large staff volume with company headquarters all around the US, you can cater to everyone in your business by customizing a License Plate Hat on a Snapback, your custom hat will fit everyone!
If you're ready to make a striking statement with your style and design and show the world what your business is all about, then customize a Snapback with an Engraved Leather emblem. 
Your business deserves a custom hat that shows the world exactly what you do without compromising design or style. Long gone are the days of boring business cards, you and your employees can rep your brand with a fresh and memorable look. If you're looking to see how custom hats can help your business, then check out our detailed post on how customized hats are a great way to promote your business here
CityLocs offers custom trucker hats, custom flex hats, and custom snapback hats at no minimum order size. That means you can order one hat to see what it's like before ordering an entire batch for all of your people.
We don't spare quality or comfort - all of our custom hats are high-quality, comfortable, and come in a variety of styles, colors, and designs. Check out our IG page for customization inspo.
Your search for custom hats stops here.