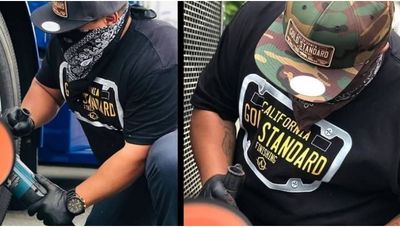 Gold Standard Finishing Make A Statement With CityLocs
Matt Reza is a self-made entrepreneur with humble beginnings. He started Gold Standard Finishing after he got the chance to polish his dad's pontoon boat. From then on, polishing became his passion.
Gold Standard Finishing specializes in Aluminum Polishing (think big rigs, tankers, rims etc.).  After trial and error, and finally partnering up with his brother, Josh Rerza, Matt finally found the success he was after. Now all he needed to do was up his social media presence and develop his brand identity. What better way to do that than with custom hats?
All About The Details
Matt knew that the easiest way to spread brand awareness and create hype around Gold Standard Finishing was to create custom trucker hats and custom snapback hats. He went searching for the perfect personalized cap.
What he found was CityLocs and our attention to detail.
He Found CityLocs Custom Hats
Matt says that:
"There was an option on the CityLocs page that I really thought was cool. They had a preview spot where you can actually type in the name of your company and see the preview, see exactly what your hat would look like. That did it for me."
Matt was able to order custom snapback hats for his team with zero risk. He knew exactly what his hats were going to look like, and didn't think twice about making his purchase.
With Gold Standard Finishing you not only get a polishing on your products you also get their knowledge. Matt says that they're not just going to polish your truck and let you leave. They want to teach you how to keep up with the maintenance.
Just like with CityLocs, you not only get custom trucker caps, you also get our meticulous attention to detail to create an incredibly valuable piece of merchandise that generates a unique brand experience.
Personalized Trucker Hats - More Than Just An Accessory
Hats are the perfect way to showcase what you're passionate about. If you have a small business, you're probably passionate about it! Why not gift custom trucker hats to your customers as a way of saying thank you?
That person puts that hat on their head, walks out into the world and they become a walking billboard.
While digital marketing continues to grow, creating customized hats can be a wallet-friendly and cost-effective way to up your marketing game. Other merch can get pretty expensive, especially when you have to meet minimum requirements to order, but at CityLocs, you get a high-value hat, at a fair price, with no minimum order.
Custom Hats Are Easy
Over the last two years social media platforms have grown like crazy, and having a brand presence on social platforms is free. When you're showing up on social media wearing a personalized hat, repping your company or business and you give your audience an opportunity to share your post, more people become aware of your brand, and you can create real customer connections.
The CityLocs team fully believes that creating your custom hats should be an easy process and finding your unique style shouldn't be a struggle. We already know that a customized hat will make you stand out, pull people in, and create a personal connection.
Hats As Unique As Your Business
With a wide variety of styles and designs, you can create custom trucker caps, customer snapback hats, or even custom flexfit hats that'll have people eyeballing you with curiosity and running up to you to find out what your hat is all about.
You can go super casual with custom trucker hats or create a personalized cap with all the bells and whistles! Whatever you decide, know that CityLocs is all about high quality, distinct design, no minimums, fast turn-around, and unmatched service. We work for you.
Snag the CityLocs style and design that fits you and your company the best.
Featured Products
License Plate Hats
Make your License Plate hat as unique as your company. We have over 50 license plate designs! With a wide variety of hat styles & patterns, and custom text options, you can make your License plate hats as unique as your company.
Work Hats
Need a simple and straightforward trucker hat? Don't have your branding or logo nailed down just yet? Look no further than our custom hats for business collection. Two lines of customizable text on a wide variety of leather patches, our Work Hats are perfect to outfit your team or your loyal customers.
US State Flag Hats
Three different hat styles and over 50 flags to choose from. Perfect for your traveling business or the company that has satellite offices all around the US. Show your love and pride for your state with our US State Flag Hats.