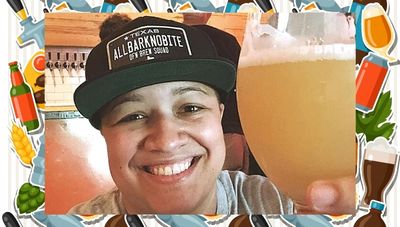 Sydney Wells & the DFW Brew Squad Love CityLocs
Sydney Wells, the founder of DFW Brew Squad loves her CityLocs custom
License Plate
hat. DFW (standing for Dallas Fort Worth) Brew Squad is a unique organization that supports and emphasizes drinking local. 
Their tagline is "Loyal to Local." They're known for coming to your craft beer establishment in the DFW to support anniversaries, new beer releases, holiday parties, etc.
Their specialty: to show up and support.
DFW Brew Squad partners with local charities, businesses, and local community members to provide events throughout the DFW and raise awareness and funds for those around us who need it most.
Sydney fills a craft beer gap
When it comes to craft beer, there is definitely a gap in who it's celebrated by and who it's for. Sydney noticed that and wanted to create an inclusive community where women, African Americans, and LGBTQ members are showcased.
And so she did all while wearing her CityLocs personalized cap.
CityLocs x DFW Brew Squad
Sydney says that "The preview option was the EXACT reason I bought the product because I was able to take a screen grab and send it to a few people and confirm how awesome it was and I was able to up the order."
She saw one of our Facebook ads for custom hats, specifically our Texas License Plate hat and knew that it was the hat for her brand. Sydney knew that these custom snapback hats would be a super easy and fun way to promote her business. Now everyone in her group rocks one!
When you have a unique and forward thinking business like Sydney, you need a unique and forward thinking way to promote it. Almost all of our designs are available on custom trucker caps and custom snapback hats. That means you can create original designs to rep your company too.
CityLocs custom hats are a great way to elevate your brand and create wearable merchandise that people in your network can wear repeatedly.
Custom hats are incredibly functional pieces of apparel
People wear hats for a variety of reasons other than the weather. Hats are creative marketing and fashion statements all rolled into one. Handing out custom trucker hats to your customers is an affordable and high-value way to get the word about your business without making people feel like they've been exposed to marketing or advertisement.
Plus, when you've got as cool a business as Sydney and the DFW Brew Squad, all you need is word of mouth. When your personalized cap is worn all around your local community, it creates brand recognition, especially if you're in a competitive industry. 
Customized & Personalized
When you order your custom hats from CityLocs you aren't tied to one style or design. We are stoked to offer a ton of different designs and styles that you can put together so that your personalized trucker hat matches your marketing strategy.
You never have to carry a business card again (plus they're pretty easy to lose). A custom trucker hat… much harder to lose! As long as your company's name is on there, your customers, potential customers, and new community members will be able to find you online.
CityLocs custom trucker caps and custom Snapback hats are easily customizable and affordable. With no minimum order, you can experiment with a few different styles and designs before deciding on the one that fits your brand (and your head) best.
Up-level your brand with an affordable high-value piece of merchandise that will be seen over and over again.
Outperform your competitors with custom hats.
Featured Products
License Plate Hats
Make your License Plate hat as unique as your company. With a wide variety of styles, patterns, and custom text options, you can make your License plate hats as unique as your company. Snag your Texas License Plate Hat.
Work Hats
Want a simple and straight-forward Trucker hat with a leather patch? Then look no further than our custom work hats collection. Two lines to customize on a diverse group of leather patches, our Work Hats are perfect to outfit your team or your loyal customers.
Custom Image Hats
Looking for even more personalization? Grab one of our Custom Image Hats. These custom hats with logos on them can be used for virtually anything. Start with your patch image and shape, then choose your hat style; pick from FlexFit, Trucker, or Snapback. Upload your own graphic into our design software, add to cart, and your completely personalized custom photo hats will be on their way to you.