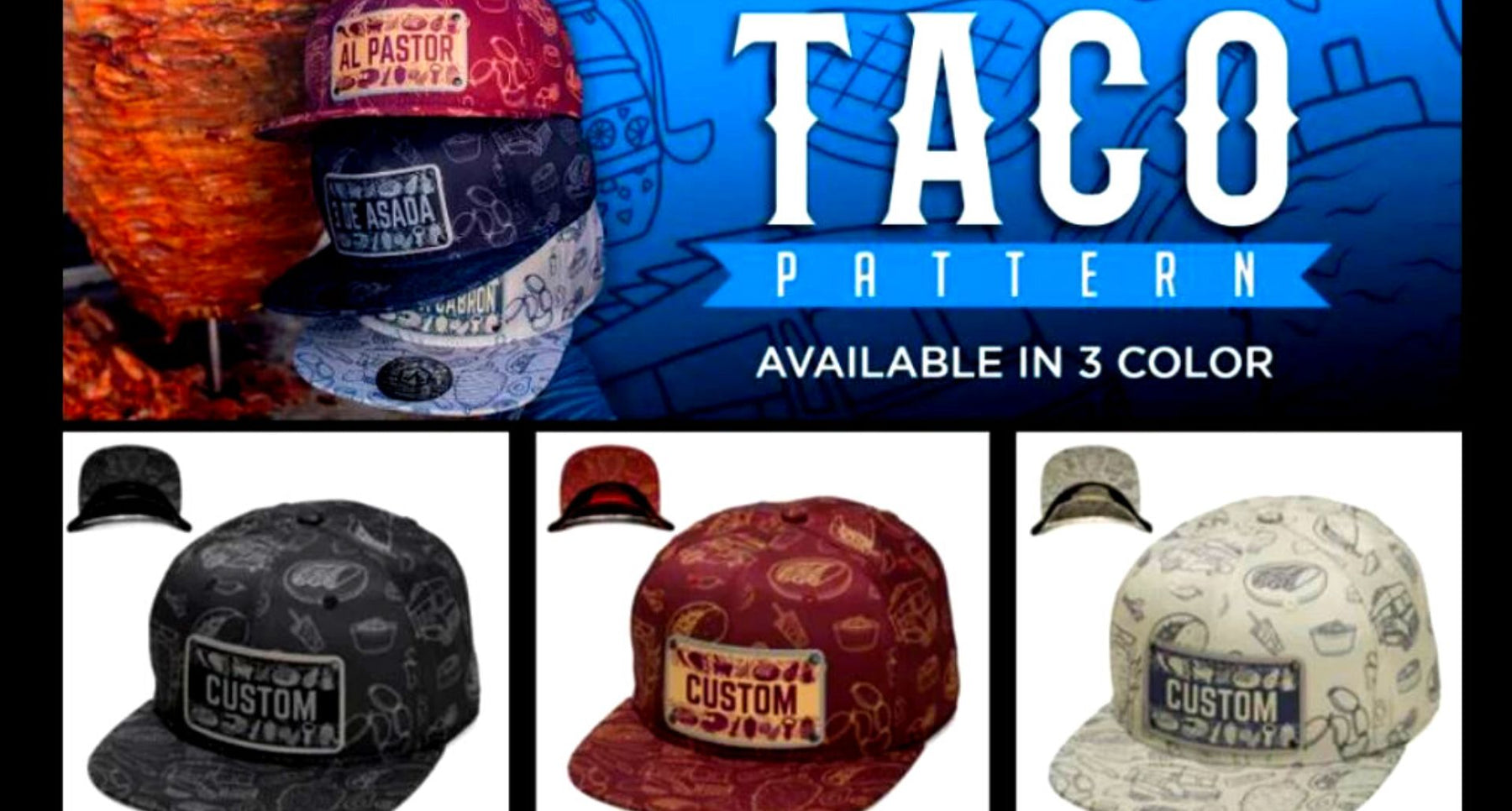 The Only Bad Taco Is The One You Didn't Eat
There's something about tacos that sends the heart racing. The infinite number of topping combinations, plus the versatility of the tortilla keep us coming back for more. If you aren't obsessed with tacos are you even living? 
Picture this…. You're at your favorite taco joint, enjoying a cold drink and your favorite taco, your best buds are there, and you're living your best life. The only thing that's missing? You're not wearing a custom taco hat!
We know that you love a good Snapback hat. Our customizable Mexican Taco Hat is exclusively on a snapback hat with three colorways to choose from and as always, has a high-quality customizable patch. Our taco hat is for the true taco lovers out there that want to show off their one-of-a-kind style.
Make your friends jealous with a taco hat and a taco tee
You're already awesome, but if you want your friends to Taco-bout how awesome you look (see what we did there?!) then you're going to want to grab your very own custom taco hat. And the best part is that you can complete your look with our customizable Taco Champ custom tee. 
Whether you're a Taco Tuesday regular or getting ready to celebrate National Taco Day, we know that your style is unique and eating tacos isn't just about good food, it's about looking good too. 
Live everyday like it's Taco Tuesday with your very own custom Taco Hat 
Maybe you own a Taco Truck or a bustling taqueria and you're wondering how the heck you can jump on the custom taco hat trend. Good news: Our Taco Hats are perfect  for you!
Here are a few ways taco business owners can benefit from a custom taco hat:
Outfit your staff. Pop your business name on that patch and buy a bunch of different color hats to hand out to your staff. Maybe managers and supervisors get a black taco hat while other staff get another color. Either way, a Mexican taco hat helps keep your place pulled together and sanitary.
Outfit your customers. Maybe you give your customers a chance to win a hat every month by submitting a review. Have a big order or catering? Give a custom taco hat as a thank you, your customers will thank you right back.
Sell them. People love to rep their favorite brands so make it easy for your customers to represent you. 
Not sure what your business can look like on a custom taco hat? Check out a branded one here.
Make a statement with your brand
There are so many different taco trucks and taquerias now that the market can feel a little saturated and a lot scary. So when it comes to marketing your business, you create the most excitement by offering something new. Yes, your food is incredible, and your service is unmatched. But imagine having that step-up on your competition.
Putting your brand on one of our leather patch hats shows the world how passionate you are about your business. When you're wearing, selling, or giving away a trendy and stylish custom taco hat you're doing more than making a fashion statement or thanking your customers. You're creating your own advertising and publicity. In other words, you're creating hype around your business.
Your taco business X CityLocs
Creating a custom Mexican taco hat is the best way to stand out and rep your brand! At CityLocs we don't mess around with quality. Every single hat that you order comes with high-quality design and craftsmanship.  
Our Taco Hat comes exclusively in a Snapback hat style in three different colors so that you can make it your very own. We pride ourselves on offering you the highest-quality product at the most affordable investment with the highest return.
Your custom taco hat is long-lasting, durable, and will last through years of wear and tear. Plus we don't require a minimum order so you can experiment until you find the best color and customization that works for you.
In the mean-time, if you need us, we'll be daydreaming about tacos, while wearing a Mexican Taco Hat, of course!
Featured Products
Taco Hat
Your Custom Taco Hat can be as unique as your brand! Choose your colorway; Black, Burgundy, or Stone and put up to 16 characters on your patch to make this fun and unique hat all yours.
Taco Truck Groupie Tee
For the true taco lover out there, this one's for you! Declare your victory as a true Taco Champ. You can personalize this tee by with up to 16 characters on a white or black tee and let the world know you will work for tacos.