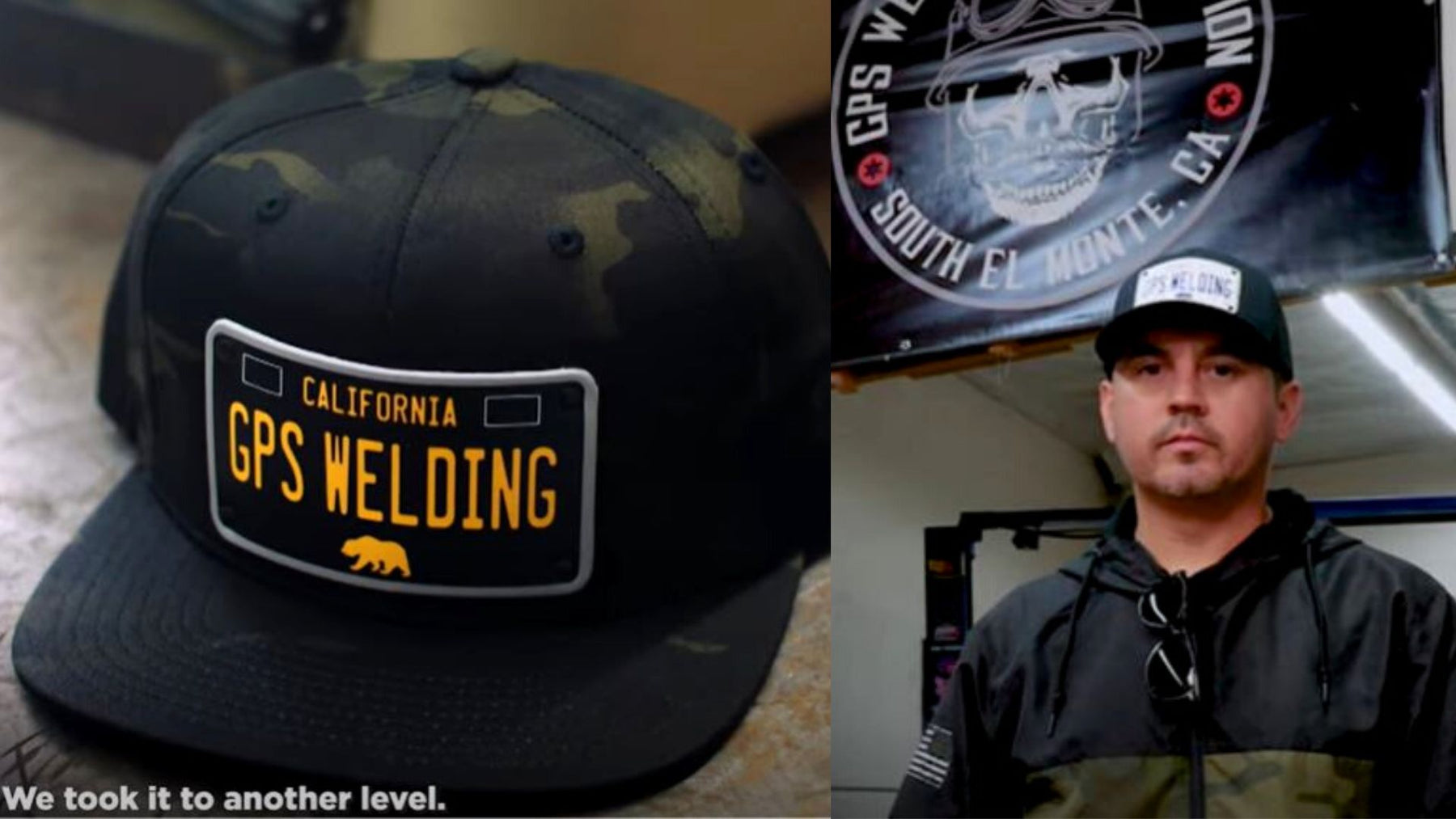 Giovanni Segovia gives CityLocs Custom Hats a 10/10
GPS Welding isn't here to play small, they've taken their work to the next level.
They work on restaurants, custom homes, and most importantly (and passionately):
lowriders
. Giovanni Segovia, owner and operator of GPS Welding grew up watching his father and uncles work in welding, and at age 19, decided to get into it himself. 
Segovia says that growing up around it means that welding is "...in the blood!" 
To the team at GPS Welding, their job is more than just fusing parts together. It's about creating a unique and unforgettable visual experience.
By teaming up with CitryLocs to create custom hats, GPS Welding has also created a unique and unforgettable visual experience in their branding. 
GPS Welding x CityLocs
Not too long ago, Segovia was talking with a friend who decided to put him in touch with CityLocs. The team at CityLocs took care of Segovia and the GPS Welding team and hooked them up with some great custom work hats.  
Segovia says:
"We've received a lot of compliments, I've given them to all my cousins, buddies, friends, everybody. They love them! The quality of the hat is great, good craftsmanship. I like how it fits, very snug, I think it's a 10 for 10."
Your brand is unique - your marketing should be too!
When you own a creative business like GPS Welding, your marketing should reflect that. When everyone and their grandmother has a smartphone (and social media), there's no point in printing out boring business cards. 
The use of custom hats as promotional material offers your business a unique and stylish way to push your name and products or services to the public.
Custom engraved hats are the perfect gift to give to your customers after they make that big purchase. Your loyal clients not only walk away with a beautifully and expertly completed project, they also walk away with an easy and stylish way to promote your business.
A business card can be tucked away, but a custom engraved hat on the head of clients acts like a walking billboard. Potential customers will see the hat and subconsciously register the name and/or logo of your  business into their memory.
Custom Hats Are Affordable
Another huge benefit to using custom engraved hats as promotional products is that they are affordable. And unlike other companies, CityLocs doesn't make you order a minimum amount. Some promotional materials, like t-shirts, flyers, or digital advertising can get pretty expensive. With custom hats, you'll get an affordable product with huge value!
Why? Because literally anyone can wear them. Giving out custom hats is an ideal promotional item for your business or brand. 
Plus, custom hats can be used to represent your team. When you're working at an event or industry outing, you can use custom engraved hats as a symbol of togetherness to boost your teams' spirit and make your business and brand easily identifiable. 
Attract A New Crowd
Even though it feels like fashion trends change from minute to minute, custom hats have managed to not only survive, but stay relevant. 
With loads of different custom hat styles and designs, you can create new era custom hats that will attract people who were previously unaware of your brand and business. If your brand or business targets an older audience, you can start to reach the younger audience with your eye-catching CityLocs custom hats.
From Trucker, to SnapBack to different colors and patterns, know that CityLocs is all about high-quality, distinct design. With no minimums, fast turnaround, and unmatched service.
Snag CityLocs custom engraved hats and rep your one-of-a-kind company the way it deserves to be repped.
License Plate Hats
Your state is special to you! Rep it with pride with CityLocs Custom License Plate Hats. Choose the perfect custom text and the hat style that best fits you and your unique look. 
Work Hats
The perfect way to rep your growing business. With over 14 designs, our Work Hats are your go-to if you're looking for a custom hat with a leather patch.