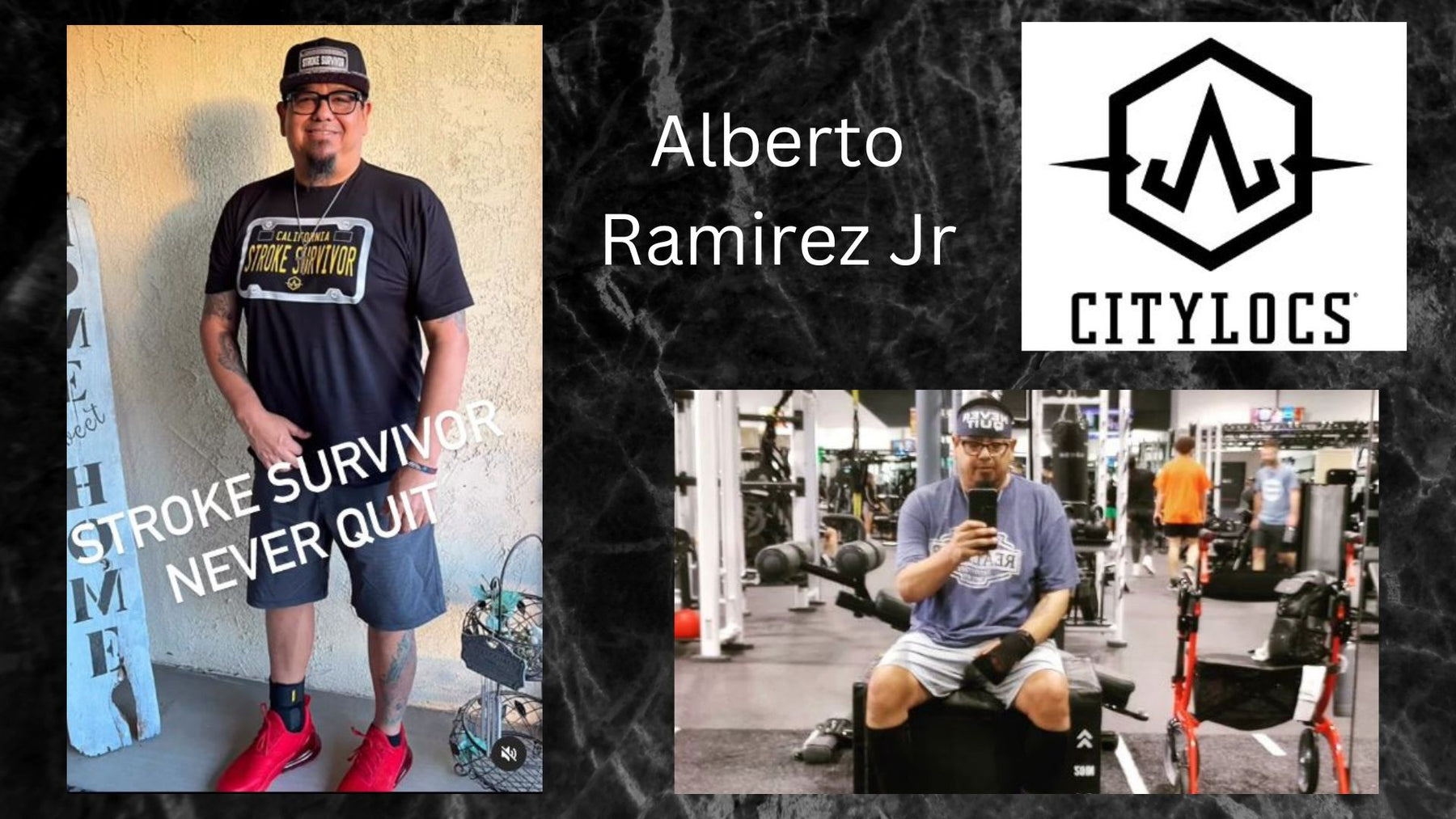 Alberto Ramirez Jr. Refuses To Quit
  Refuse to quit; a phrase that Alberto Ramirez Jr. lives by.
After surviving an Ischemic Stroke in 2019, Alberto decided that he wasn't going to let his life slip by. He's spent countless hours in recovery and is determined to help other people through their journey by showing every side of his own. He takes his recovery battle seriously and isn't afraid to share both his wins and challenges on social media.
Over the past three years he's been able to go from a wheelchair, to a walker, to a cane, and he isn't slowing down! Even though he's determined, it hasn't been easy. He motivates himself by getting his grind on at the gym, and making sure he's moving his body and taking care of his mind. Earlier this year he decided to show off his journey and progress by grabbing a custom plate hat.
Spreading Awareness
By wearing his custom gear Alberto is spreading awareness and supporting and inspiring stroke survivors everywhere. Because as he says: Stroke survivors never quit and never back down. Once he got his hands on his custom plate hat, he decided he needed to expand his custom closet. So he added an Aztec Pattern Custom Hat to his collection.
What Alberto is doing with his custom pieces isn't new, but it is something that many people forget about it.
When you have a passion, no matter what it is, the world needs to hear about it! A simple and effective way to show off your passion is with custom clothing. CityLocs is all about helping you customize the right product for your passion.
One of our most popular products, our custom plate hat, gives off a fun and casual vibe but also gets your point across. You can show everyone where you're from and what you're passionate about. Plus your unique and custom hat won't be available anywhere else, so if someone likes it, they can only get it if you give it to them.
Share It On Social Media
Wondering about the best way to utilize your custom plate hat? Use the power of social media. Most people you know probably spend a couple of hours a day scrolling through social media. Whether it's Facebook, Instragm, TikTok, or any other number of sharing and streaming sites, you know somebody on each platform. 
If you're trying to raise awareness for a certain campaign, or you just really want the world to know about your passion, think about a clever and original hashtag and encourage people to use it and tag you while wearing your custom plate hat.
Worried about pleasing the masses? Don't worry! So are we. That's why our custom plate hat comes in three different styles: Snapback, Fitted and Trucker, and over 20 different colorways. From Alabama to Wyoming, we have over 60 different license plates to choose from.
Aztec Pattern Custom Hat
Maybe you're like Alberto, and you're looking for something a little bit different. One of our newest styles, the Aztec Pattern custom hat, could be right up your alley. This hat has a sleek Aztec pattern on both the underside of the brim and on the custom patch, giving it that subtle but unique look you're looking for. 
Whatever your passion, your motivation, or your inspiration, the world deserves to hear about it. With the power of social media and the originality of a custom plate hat, you can have people talking about it all around the world. Which is exactly what Alberto is trying to do. We love you Alberto and we can't wait to see even more of your journey!
You can follow Alberto's journey with us right here.
Featured Products
Aztec Pattern Custom Hat
Sunny days call for our Aztec inspired shade. Kick it in this clean Aztec pattern, both under the brim and on the patch. Like our other custom patches, the Aztec pattern patch can hold up to 16 characters of text. This is a limited edition pattern so make sure you grab yours before they're gone!
License Plate Hat
We all have a state that is special to us or that we want to rep with pride. That's why our custom plate hat is one of our most popular styles. This hat comes in three different styles: Snapback, Fitted and Trucker, has over 20 different colorways to choose from and over 60 license plates across the US. Our custom license plate hat can hold up to 16 text characters to make your hat as unique as you are.  
Looking for even more personalization? Grab one of our Custom Image Hats. These custom hats with logos on them can be used for virtually anything. Start with your patch image and shape, then choose your hat style; pick from FlexFit, Trucker, or Snapback. Upload your own graphic into our design software, add to cart, and your completely personalized custom image hats will be on their way to you.