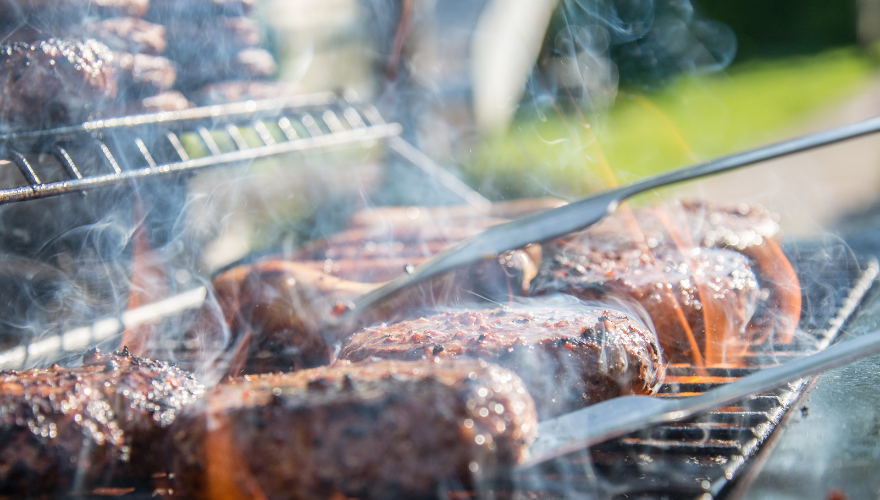 Tips On Throwing A Killer BBQ
The weekend is just around the corner! 
Now is the time to make plans for a good time filled with food, drinks, and family. Nothing beats firing up the grill with your favorite people. 
Do you want to throw a kick-ass BBQ? Focus on the food, drinks, music, who you invite, and your style!
The Food
Burgers and hotdogs are a BBQ staple, but try something different like tri-tip or ribs if you want to truly impress.
Tri-tip is a triangular cut of beef that is lean, tender, and full of flavor! This delicious cut of sirloin is affordable and perfect for any backyard BBQ. If this sounds like a crowd-pleaser to you, check out this recipe. 
Ribs are sure to excite your guests! Especially when you follow the grill masters at BBQ Guys' delicious recipe.
Picking the right side dishes can bring your BBQ to the next level! Mexican grilled corn or Elote is an easy and lip-smacking good side dish. 
The Drinks
Drinks can make or break a backyard party. Take time to choose your drinks, and make sure you have plenty. Nobody wants to run out of beer in the middle of a BBQ.
Depending on your guests and your food selection, you can go in a few different directions with your drink selection. 
Beers like Modelo, Corona, and Dos Equis never disappoint! If you want to be a little extra, you can make the best michelada recipe, spicy jalapeno margaritas, or a unique signature drink that nicely compliments the food or vibe.
Your guests are sure to have a great time when the drinks are flowing!
The People
Invite people who you enjoy and who get along well. You can avoid drama and awkward encounters by only choosing people that you are close to. Pick family and good friends as your guests.
Plus, with the pandemic, it is essential to keep your event small. When you choose the right people the size of the party won't matter, you'll still have a great time!
You can go for a potluck and have your family and friends bring a drink or side to share if you want even more options. 
People make the party, so choose wisely and invite them earlier enough to get a good turnout. 
The Music
A fresh playlist can help you achieve the atmosphere you are trying to create at your BBQ. 
Whatever you and your guests enjoy listening to, you can build a playlist to fit it. Or, if you are going for a particular theme or vibe, you can make a playlist to build on that. 
Everyone loves music, and the right background music can be a game-changer at your backyard grilling party.
Your Style
Once you have your food, drinks, music, and playlist set up, it's time to focus on yourself. What look do you, as the host and grill master, want to achieve?
Your look can say a lot! You can have fun with it and find a custom hat or shirt to show your personality and style. 
There are plenty of options for personalized gear that you can create to make sure you're looking good while you grill!
Check out the perfect
custom hats
for your BBQ at CityLocs...
CityLocs offers custom hats, custom trucker hats, and many others at competitive rates! These custom hats are high-quality, comfortable, and come in various styles and colors. 
Plus, we have a custom hats no minimum (no minimum order size) policy that allows you to order just one hat or many custom hats depending on your needs. 
Come to CityLocs with all of your custom gear needs!