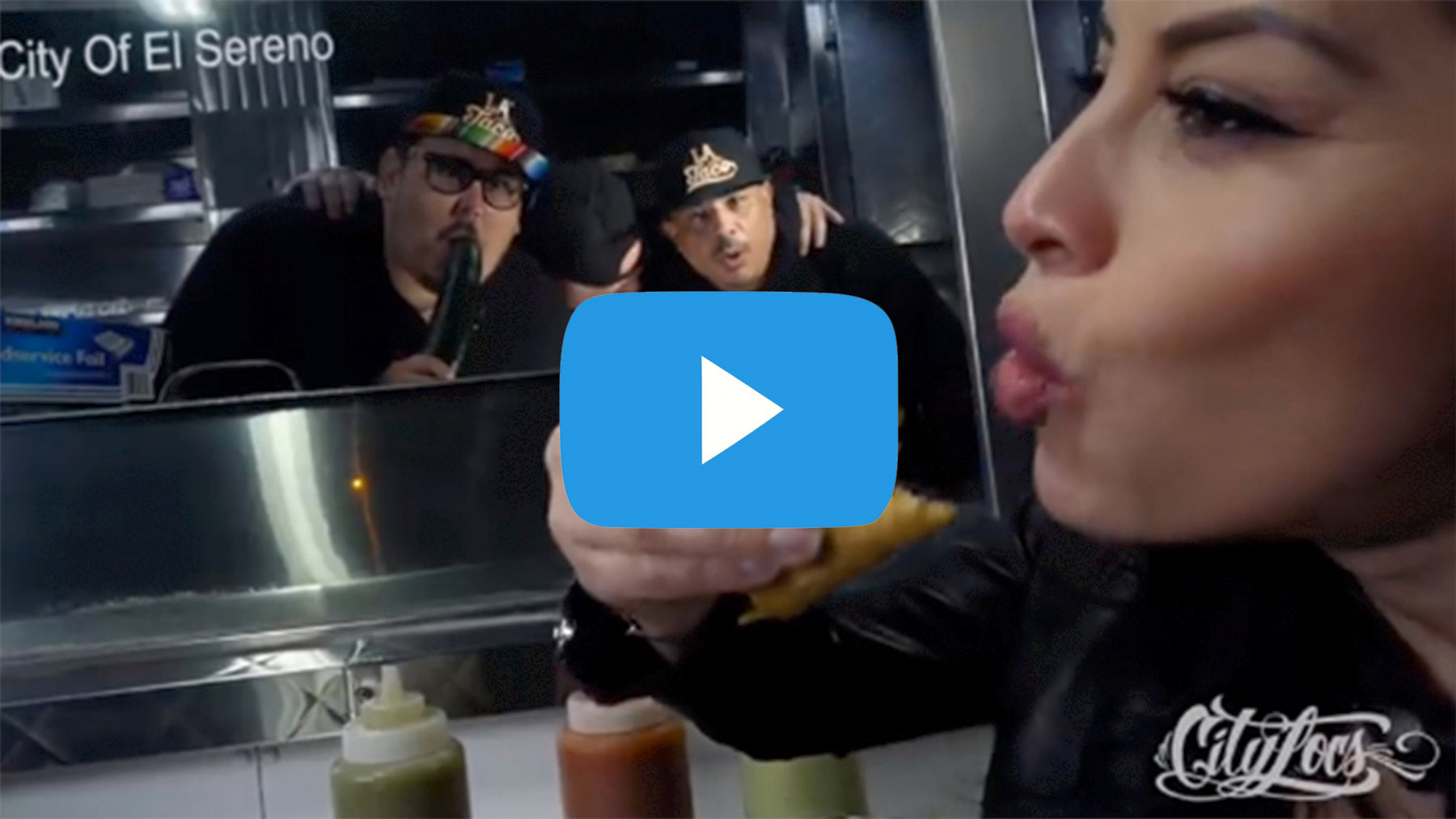 LATaco - Tortillas De Mama music Video by Momo Rodriguez
Three-Step Taco Truck PSA with Momo
What's the best food on the planet? Let's taco 'bout it with comedy king Momo Rodriguez and the crews who pour sweat and love into some of the best asada, lengua, and buche LA has to offer.
You only meet the right one once, and when you do, Momo shows us the three T's of never letting them go: Tacos Tacos Tacos. Feeling sad? Have a taco. Out to celebrate? Tacos. Not too hungry? Tacos. Starving? Tacos. Tacos? Tacos. They lead to love. But only if you order them right.
That's where we come in. Your CityLocs familia cares about your love life. We also care about tacos. And we believe that putting the two together makes magic. So, if you find yourself at a taco stand with your new special someone and you're too hungry to remember how to stay on your dating A-Game, be sure you're dressed to impress by following our patented CityLocs Three-Step Taco Truck PSA with Momo. Simply read, follow the rules, and win the heart of your dream lover. Then repeat. Because who doesn't want seconds when it comes to tacos?
For your convenience: CityLocs' Three-Step Taco Truck PSA with Momo
ATTN: For best results, read PSA after watching Tortillas de Mama by Momo Rodriguez, preferably with a taco in hand. Trust us, you'll want one.
STEP 1: ORDERING
Ok. This is it. You're at the counter with your boo ready to order and you want to eat the whole truck. Don't. Listen to abuelita softly whispering in the back of your head, saying your lonjas are getting big while she piles three more tamales on your plate even though the holidays passed months ago.
Just order six and order them fast. Three for you, three for boo. We know, its hard when you're hungry. There's too many choices and you can't make your brain read fast enough. Just listen to Momo: get asada. This isn't the time to slow down the rest of the line with your "Will boo think I'm weird if I try ojo again?" nonsense. Just "Me da seis tacos con todo." That's right. Con. Todo.
If you order your tacos and do not order "con todo," get out of the line and fast before mamá comes 'round the corner with the chancla again for this outrageous taco pecado. No matter what you say at the counter, always end the sentence with "con todo."
"What time is it? Con todo."
"I love CityLocs rad headwear. Con todo."
"Con todo? Con todo."
STEP 2: SAUCE
It's a question for the ages, passed down from generation to generation, and it will outlive the Tacos for Lifers who are still breathing today to rule over every taco stand for the rest of eternity:
Verde o Roja?
Even Momo's rhymes show us how to choose right.  If she's a keeper, she asks for both. Yeah, there's a lot to choose from out there salsa-wise. Taco stands give out styles from all over México, but red and green are your go-to standards. Try them, enjoy them, pour them on everything.
Don't be afraid of spicy either. We get that you don't want to look emotional over your tacos in front of your date, but regardless of heat levels from that salsa, it's OK to cry. Tacos are just beautiful. But, if you are still dying from a cup of fire roasted red you ate a whopping twenty minutes ago, wash it down with a soda. If you have your CityLocs bottle opener on hand, you can pop the top off fast and easy for quick salsa emergency relief.


STEP 3: EAT!
Eat the glorious tacos. Eat them like they are the first and last tacos you'll ever have. They're that good. They will always be that good. Get a few lime wedges to squeeze over it all, along with a hearty pile of those thin little napkins that just barely help to keep your fingers dry.
Let the juices of the perfectly prepared meat spill over your plate. Get into the cebollitas and cilantro, don't worry about your teeth. Share your old love of tacos with your new lover. When you're done, don't forget to show the taqueria crew some respect and clean up before you go.
It will be sad to leave your taco eating experience, but not to worry. Every great taco stand sits right where you left them. You can grab a few fresh ones tomorrow on your second date. Because you won their heart. With delicious tacos.
Just remember Momo's last words of advice: Careful, they're hot!