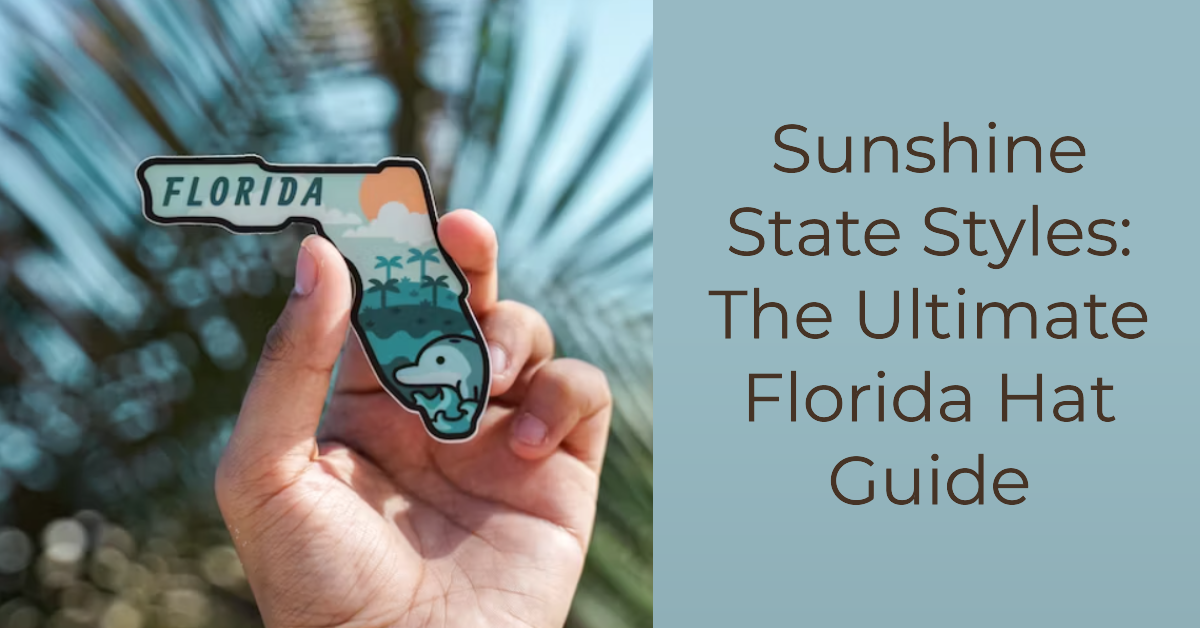 Sunshine State Styles: The Ultimate Florida Hat Guide
In the vibrant fashion scene of the Sunshine State, one accessory reigns supreme - the Florida hat. A staple in the wardrobes of both residents and tourists, these hats blend style, comfort, and practicality. Whether it's the snapback, flexfit, or trucker style, the Florida hat has become a symbol of individuality and a canvas for personal expression. This article delves into the exciting world of custom Florida hats, exploring design ideas that let you transform these headpieces into unique works of wearable art. From a hat emblazoned with a custom Florida license plate design to one proudly displaying the Florida flag, there's no limit to what you can create. So, get ready to dive headfirst into the world of Florida hats and uncover the endless possibilities of custom design!
The Different Styles of Florida Hats
Florida hats come in various styles, each with its unique flair and appeal. Let's delve into the top three styles - snapback, flexfit, and trucker hats, that have captivated the hearts of hat enthusiasts across the state and beyond.
Snapback Hats
Snapback hats, with their distinct adjustable strap and flat brim, are the epitome of street-style coolness. The versatility of the Florida snapback hat is unmatched - whether you're heading to a sporting event, a casual hangout, or even a hip-hop concert, the snapback hat fits right in. And when it comes to custom design possibilities, the sky is the limit.
Flexfit Hats
If comfort and fit are your top priorities, then the flexfit hat is the perfect Florida hat for you. Known for their elastic band that offers a snug, perfect fit, flexfit hats are a favorite among athletes and casual wearers alike. With a custom flexfit hat, you can blend comfort with personal style effortlessly.
Trucker Hats
Trucker hats, characterized by their mesh backing and foam front panel, are a classic piece of Americana. These Florida hats are perfect for those hot, sunny days, offering breathability while keeping the sun out of your eyes. Customize a trucker hat to create a perfect blend of vintage vibes and modern style.
Custom Design Ideas for Florida Hats
When it comes to designing your own Florida hat, the options are boundless. Here, we explore some creative ideas for transforming a regular hat into a piece of personalized fashion statement.
Florida License Plate Hat
A Florida license plate hat is a unique way to display your love for the Sunshine State. By incorporating elements from a Florida license plate, you can create a hat that's truly one of a kind. Think about incorporating your favorite aspects of Florida - whether it's your home city's initials, your birth year, or a Floridian symbol that resonates with you.
Florida Flag Hat
Show your state pride with a Florida flag hat. You can opt to have the entire flag emblazoned on the hat or choose key elements from the flag for a more subtle look. The red saltire and the seal can be used creatively to make your hat stand out from the crowd.
Sports Team-Inspired Hat
Whether you're a fan of the Miami Dolphins, the Orlando Magic, or the Tampa Bay Buccaneers, a sports team-inspired Florida hat is an excellent way to show your support. You can incorporate team colors, logos, or even memorable slogans into your design.
Beach-Inspired Hat
Florida is renowned for its stunning beaches. A beach-inspired hat design can include elements like palm trees, waves, or the iconic Florida flamingo. This design idea is perfect for beach outings, giving you a piece of Florida charm wherever you go.
Nature-Inspired Hat
With its unique flora and fauna, a nature-inspired Florida hat is a great way to celebrate the state's natural beauty. Think designs featuring the state flower - the orange blossom, or the state animal - the Florida panther. Such a hat is not just a fashion accessory, but also a nod to the state's rich biodiversity.
Where to Wear Your Custom Florida Hat
The beauty of a custom Florida hat lies in its versatility. Its ability to blend in and yet stand out makes it a suitable accessory for various occasions. Let's explore some places where your Florida hat can make a statement.
Sporting Events
Florida is home to numerous sports teams and passionate fans. Whether it's a football game, a basketball match, or a baseball tournament, your custom Florida hat can showcase your team spirit while adding a dash of personal style.
Outdoor Activities
With its sunny climate and diverse landscapes, Florida is a haven for outdoor enthusiasts. Be it a day at the beach, a hiking adventure, or a relaxing picnic, your Florida hat can provide much-needed shade while keeping you in vogue.
Casual Social Gatherings
Casual social gatherings are perfect occasions to flaunt your unique Florida hat. Whether it's a backyard barbecue, a music festival, or a casual hangout with friends, your hat can serve as a conversation starter, showcasing your unique sense of style.
Concerts and Festivals
Florida's vibrant music scene is the perfect backdrop for your custom hat. Whether it's a local gig or a major music festival, your Florida hat can help you stand out in the crowd, making it a memorable accessory for a memorable event.
Flaunt Your Personalized Florida Hat
With a custom Florida hat, you're not just wearing an accessory; you're carrying a story, a statement that is uniquely yours. Let's delve into how you can flaunt your personalized hat and make it the envy of others.
Social Media Envy
In the age of social media, your Florida hat can help you garner attention and compliments. Click a selfie with your hat against a scenic backdrop, or model it in your OOTD (Outfit of The Day) post. Hashtags like #FloridaHat, #CustomHat, and #HatStyle can help draw attention to your unique accessory.
Networking Opportunities
A unique hat can serve as a conversation starter, opening doors to networking opportunities. Whether you're at a business event or a social gathering, your Florida hat could catch the eye of potential connections.
A Conversation Starter
Never underestimate the power of a well-placed accessory. Your custom Florida hat can spark conversations, from compliments on your design to questions about where you got it. So the next time you wear your hat, be ready to tell its story - from the design inspiration to the customization process.
Care and Maintenance for Your Florida Hat
A custom Florida hat isn't just an accessory; it's a personal expression of style, and as such, deserves the best care. Here are some tips to ensure your hat remains in excellent condition for years to come.
Regular Cleaning
Regular cleaning is essential to maintain the vibrancy of your hat's colors and prevent dirt buildup. However, remember that each hat type may require a specific cleaning method. For instance, a snapback or trucker hat might be more tolerant of mild soapy water, while a flexfit hat might require specialized cleaning products.
Avoid Harsh Conditions
Try to keep your Florida hat away from harsh conditions like extreme heat, cold, or humidity. These can affect the hat's material and color over time. For instance, prolonged exposure to the sun can cause colors to fade.
Proper Storage
When not in use, store your hat in a cool, dry place. Avoid crushing or folding your hat, as this could distort its shape. Instead, consider investing in a hat rack or a hat box for storage.
Handle with Care
Always handle your Florida hat with clean hands to avoid transferring oils and dirt onto the material. When adjusting your hat, try not to pull on the brim as it can lose its shape over time.
Remember, the better you care for your Florida hat, the longer it will retain its unique look and quality. By following these care and maintenance tips, you can ensure your hat stays as fresh as the day you first wore it.
FAQs
In this section, we address some of the frequently asked questions about custom Florida hats. These queries cover a range of topics, from design options to the ordering process.
What Types of Customizations Are Available for Florida Hats?
There's no limit to the customizations you can add to your Florida hat. From text and logos to images and personal artwork, you can create a hat that truly reflects your personality and style.
How Long Does It Take to Receive a Custom Florida Hat?
The creation and delivery time for a custom Florida hat can vary depending on the complexity of the design and the production schedule. However, most companies strive to deliver your custom hat as quickly as possible.
Can I Order a Custom Florida Hat as a Gift?
Absolutely! A custom Florida hat makes a thoughtful and unique gift. You can design a hat that reflects the recipient's interests, hobbies, or personal style.
Can I Get a Refund or Exchange on My Custom Florida Hat?
Due to the personalized nature of custom hats, refunds or exchanges are typically not offered unless there's a defect in the product. It's important to double-check your design before finalizing your order.
Conclusion
Whether you're a Florida native, a visitor who fell in love with the Sunshine State, or someone looking for a unique fashion accessory, a custom Florida hat is a perfect choice. With endless design possibilities and various styles to choose from, you can create a hat that's as unique as you are. So, don your Florida hat, make a statement, and let your personality shine!
Ready to Make Your Statement?
Your unique style deserves a unique accessory to match. Why blend in when you can stand out with a custom Florida hat that's truly yours? At CityLocs, we specialize in bringing your visions to life, one hat at a time.
Whether you're drawn to the street-style coolness of snapback hats, the comfort and fit of flexfit hats, or the classic Americana feel of trucker hats, we've got you covered. With our easy-to-use customization tool, you can create a hat that reflects your personality, interests, and Florida pride.
From Florida license plate designs to Florida flag emblems, from sports team logos to beach-inspired artwork, the design possibilities are endless. And the result? A hat that's more than just an accessory. It's a statement. It's a conversation starter. It's a piece of the Sunshine State that you can take with you wherever you go.
So, are you ready to start your custom hat journey with CityLocs? Visit our website today and let your creativity take flight. Create your own Florida hat, and let your personal style shine!