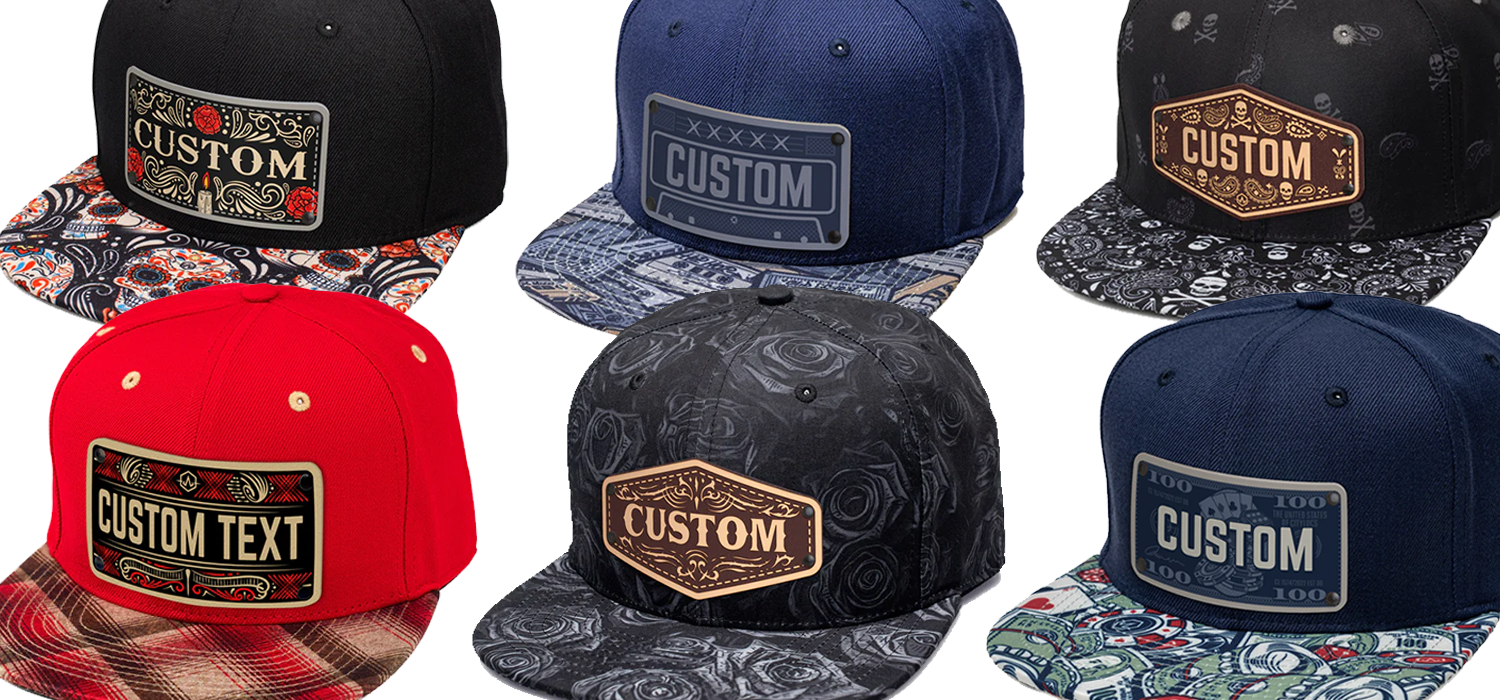 How to Customize Your Perfect Flat Brim Hat
Introduction
Flat brim hats have become the go-to fashion accessory for people worldwide, symbolizing both style and attitude. But these hats are not just about fashion; they represent a movement, a culture, and most importantly, an opportunity for self-expression. This trendsetter accessory took root in the hip-hop culture of the '80s and '90s, but its appeal quickly spread, transcending boundaries, age groups, and style preferences.
The popularity of flat brim hats lies in their versatility. Whether you're aiming for a laid-back, casual look or striving for an assertive, trendy appearance, these hats can help you achieve your desired style. Moreover, with the growing trend of customizations, you now have the freedom to design your flat brim hat that aligns with your unique persona or represents a brand you adore.
The possibilities with custom flat brim hats are limitless. This guide will walk you through different styles of these hats like snapbacks, flexfits, and trucker hats, and inspire you with creative ideas to design your perfect accessory. It's time to let your creativity run wild and make a personal style statement with a custom flat brim hat!
The Appeal of Custom Flat Brim Hats
Custom flat brim hats are more than just an accessory; they are a way to express oneself distinctively. The charm of these hats lies in their capability to transform any attire, adding a dash of charisma that resonates with your unique personality.
Making a Personal Style Statement
Whether you're an aficionado of custom flat bill trucker hats, a fan of fitted styles, or someone who appreciates a good snapback, a custom flat brim hat allows you to showcase your individuality. These hats can become your style signature, immediately setting you apart from the crowd. And the best part? With options like custom flat bill hats no minimum, you can begin your custom hat journey without ordering in bulk.
Building Brand Identity
Companies and organizations can leverage the appeal of custom fitted flat bill hats to create a recognizable brand identity. When your logo or brand name graces the front of a stylish flat brim hat, it becomes a mobile advertisement, garnering attention wherever it goes. Moreover, as custom-made gifts or merchandise, these hats can create a sense of unity among team members or dedicated fans.
Showing Love for Your Hometown or State
The trend of regional pride has found a creative outlet in custom flat brim hats. From showcasing state symbols and motifs to featuring local slang or iconic landmarks, these hats can help you express your love for your hometown or state. 
In the next section, we will delve into the different types of custom flat brim hats you can choose from to match your style and needs.
Types of Custom Flat Brim Hats
Choosing the right custom flat brim hat depends on your style preferences, comfort, and specific needs. Let's take a closer look at three of the most popular styles: snapbacks, flexfits, and trucker hats.
Snapback Hats
Defining Features and Benefits
Snapback flat brim hats offer the perfect blend of style and convenience. These hats are easily adjustable, ensuring a comfortable fit regardless of the user's head size. Their structured design maintains the hat's shape, while the prominent flat brim adds a fashionable edge. A custom snapback hat, adorned with your choice of design or message, can become a standout piece in your wardrobe.
Creative Design Ideas
When it comes to customizing your snapback, the possibilities are virtually endless. You could go for an embroidered logo, a printed graphic, or even a quirky quote that defines you. With custom flat bill hats no minimum, you can start with just one design, see how it works, and then let your imagination soar!
Flexfit Hats
Defining Features and Benefits
Flexfit flat brim hats offer a streamlined look and a snug fit, thanks to their elasticated band. They are a perfect choice for those who prefer a more fitted feel to their hats. Custom fitted flat bill hats maintain their shape and size over time, ensuring your comfort and style are never compromised.
Creative Design Ideas
With Flexfit hats, you can experiment with various customization options, such as 3D embroidery or even a patch with your initials. A simple, minimalistic design can also make a big impact, allowing the quality and fit of the hat to shine.
Trucker Hats
Defining Features and Benefits
With their distinctive mesh back for breathability, trucker hats are a stylish choice for those who prefer a retro vibe. Custom flat bill trucker hats combine classic style with modern customization, making them a popular choice for personalized headwear.
Creative Design Ideas
A classic trucker hat offers a broad canvas for creativity. Think vibrant colors, large logos, or even an all-over print that wraps around the hat. You could also go with a subtle design on the mesh or under the brim for an unexpected surprise.
Each style of flat brim hat has its unique charm and advantages. The next section will spark your creativity with unique design ideas to customize your flat brim hat.
Unique Design Ideas for Your Custom Hat
Customizing your flat brim hat enables you to express your creativity and style like never before. Here are some innovative design ideas that will inspire you and guide you in making your perfect custom flat brim hat.
License Plate Hat
Adding Your Text
One of the most exciting design concepts for a flat brim hat is a Florida license plate-themed hat. This idea allows you to add a text of your choice, a favorite quote, or a personal mantra to the hat, making it truly unique. Remember, the more meaningful the text, the greater personal connection you'll feel with your custom flat bill hat.
Incorporating Your Logo
Incorporating a logo into your Florida license plate design can make it more visually appealing. Whether it's a brand logo, a sports team emblem, or a design that holds personal significance, adding a logo to your hat can make it a true conversation starter.
Flag Hat
Adding Your Image
Another creative design concept is the Florida flag hat. Adding your image or a loved one's picture to a hat can make it a unique keepsake. You can choose from a range of customization options for your image, such as black and white, pop art, or even a silhouette design.
Using Additional Elements
Your Florida flag hat can include additional design elements such as iconic state landmarks or cultural symbols. Including these aspects can enhance the visual appeal of your custom flat brim hat and make it a true homage to Florida's rich heritage.
Other Innovative Design Ideas
Popular Culture Themes
Pop culture themes are a hit when it comes to customizing flat brim hats. Whether it's a beloved movie quote, a line from your favorite song, or the emblem of a popular game, incorporating these elements into your hat can make it truly one-of-a-kind.
Minimalist Designs
Sometimes, less is more. A minimalist design, such as a simple pattern or a lone symbol, can give your flat brim hat a chic, sophisticated look. These designs often work best on custom fitted flat bill hats, providing a sleek and clean aesthetic.
Bold, Abstract Patterns
For those who love to make a statement, bold, abstract patterns on custom flat bill trucker hats can be a perfect choice. The mesh backdrop of the trucker hat makes the pattern stand out, catching eyes from a distance.
Remember, the goal is to create a hat that you'll love to wear and that will represent your unique style and personality. Your perfect custom flat brim hat is just a design away!
Showcasing Your Custom Hat: Where and When to Wear It
A well-designed custom flat brim hat is a statement piece that deserves to be seen and admired. It can elevate your style quotient and make heads turn at a variety of events and outings. Here are a few occasions where your flat brim hat can truly shine.
Casual Outings
Whether it's a day out with friends, a visit to the local market, or a picnic in the park, your flat brim hat can add a fun and fashionable touch to your casual attire. A custom flat bill trucker hat, with its breathable design, can be particularly suitable for outdoor gatherings.
Themed Parties
Themed parties provide a fantastic platform for showcasing your creativity. Wear a hat customized with elements from the party's theme, or take it up a notch by designing a hat that's a conversation starter. Your guests will be awed by your attention to detail!
Promotional Events
If you're hosting or attending a promotional event, a flat brim hat featuring your brand's logo or tagline can be a strategic marketing move. The stylish appeal of custom flat bill hats no minimum order makes them a memorable promotional giveaway that leaves a lasting impression.
Sporting Events
Sporting events are a great opportunity to showcase your loyalty to a team or player. A custom fitted flat bill hat with the team's colors or logo can make you stand out in the crowd and display your fandom with pride.
Music Festivals
Music festivals are all about expressing oneself, and what better way than through a custom flat brim hat? Whether it's showcasing your favorite band's logo or lyrics from a beloved song, your hat will be a symbol of your musical passion.
Your custom flat brim hat is not just a fashion accessory; it's a badge of your unique identity. Wear it with pride, and get ready to catch admiring glances wherever you go! In the next section, we'll talk about the impact of your custom flat brim hat and how it can draw the envy and admiration of others.
The Impact of Your Custom Flat Brim Hat: Admiration and Envy
Custom flat brim hats are not merely trendy accessories; they are powerful tools for self-expression. When you wear a hat customized to your taste and personality, it immediately draws attention and sets you apart from the crowd. Let's delve into how your custom hat can make you the center of admiration and envy.
Showcasing Your Unique Style
A custom flat brim hat reflects your individuality. Be it a snapback, a fitted hat, or a trucker hat, when you flaunt your unique design, it inevitably earns admiration from onlookers. People appreciate creativity and originality, and your custom hat is a testament to both.
Exemplifying Your Loyalty
Whether it's a Florida flag design showing your state pride, a sports team logo demonstrating your fandom, or a brand emblem signifying your dedication, your flat brim hat makes a statement about your loyalties. This clear expression of loyalty is something that people admire and often feel envious of.
Becoming a Walking Conversation Starter
Your custom flat bill hats no minimum quantity can spark conversations wherever you go. Intriguing design elements or thought-provoking quotes on your hat can pique people's interest, making them curious to know more. Such engaging interactions often create a sense of envy as people wish they had a similar conversation starter.
Flaunting Your Confidence
Wearing a custom hat, especially a bold or unconventional design, requires a certain level of confidence. When you carry your custom fitted flat bill hats with poise, it radiates a confident aura that others find admirable and often wish to emulate.
Setting Trends
A unique, custom-designed hat has the potential to set new fashion trends. As you wear your custom flat bill trucker hats, you might inspire others to explore their creativity and customize their hats. This trendsetter status will undoubtedly generate admiration and a hint of envy among peers.
The power of your custom flat brim hat extends beyond its visual appeal. It's about the statements you make, the conversations you start, and the trends you set. In the following section, we will answer some frequently asked questions about customizing flat brim hats.
Visual Guide to Designing Your Flat Brim Hat
Designing your custom flat brim hat is a creative and engaging process. Here, we present a visual guide to aid you in each step of your hat customization journey. From choosing your preferred hat type to finalizing your design, this guide aims to simplify the process and inspire your creativity.
Choosing Your Hat Type: Snapback, Flexfit or Trucker
The first step in your design journey is to select the type of hat that suits your style and comfort the best. Whether it's the versatile snapback, the comfortable flexfit, or the breathable trucker hat, each style offers a unique look and feel. Consider where and when you'll be wearing your hat to help make this decision.
Designing Your Perfect Hat: Adding Text, Logos, and Images
Next, delve into the exciting world of design. Let your imagination soar and create something that truly represents you. From adding a personal motto in text to displaying a beloved image, or even incorporating your own logo, your flat brim hat becomes your canvas. Ensure the elements you choose are of high quality for the best print results.
Preview and Finalize: Making Sure It's Perfect
The final step before you place your order is to preview and finalize your design. Take a good look at your creation and make sure it aligns with your vision. Check the placement, colors, and sizes of your design elements, and ensure everything looks just the way you want it on your custom flat brim hat.
Creating a custom hat is more than just an ordering process; it's a creative journey. Take each step with thought and enjoy the process. At the end of this journey, you'll have a unique flat brim hat that's made just for you
Frequently Asked Questions About Customizing Flat Brim Hats
Before you set off on your custom flat brim hat journey, it's crucial to get your questions answered. Below are some frequently asked questions and answers about customizing flat brim hats.
Can I Order Just One Custom Hat?
Absolutely! You can order custom flat bill hats with no minimum requirement. Whether you want one hat or a hundred, the opportunity to create a personalized design is at your fingertips.
Can I Use Any Image for My Custom Hat?
Yes, as long as you have the right to use the image. Make sure the picture is of high quality for the best printing results. Your custom flat bill trucker hats will look stunning with your chosen image.
Are There Specific Colors I Can or Cannot Use?
There's a wide range of colors you can use for your hat design. Keep in mind, though, that the color representation may slightly vary between your screen and the actual printed hat.
How Long Does It Take to Produce My Custom Hat?
The production timeline for your custom fitted flat bill hats can vary depending on the complexity of your design and the quantity of your order. It's best to check with your hat provider for specific timelines.
Can I Customize Different Types of Flat Brim Hats with the Same Design?
Yes, you can apply the same design to various hat types, such as snapbacks, flexfits, and trucker hats. Just make sure the design fits well within the shape and structure of each hat style.
Having your questions answered puts you in a better position to create your perfect custom flat brim hat. In the next section, we'll wrap up our comprehensive guide on how to customize your perfect flat brim hat.
Conclusion
Designing a custom flat brim hat is a journey of creativity and self-expression. Whether it's a snapback, a flexfit, or a custom flat bill trucker hat, the opportunity to make a unique, personal statement is what makes customizing so exciting.
By incorporating elements that represent your interests and identity, you create more than just a hat. You create a piece of wearable art that not only boosts your style quotient but also reflects your personality. From flaunting your unique designs to setting trends, your custom flat brim hat can indeed make you the envy of many.
Remember, there are no limits to creativity. So, don't be afraid to explore different ideas and push the boundaries with your designs. The joy of wearing a custom flat bill hat, knowing there's no other like it, is unparalleled.
We hope this guide has been helpful in your journey to create the perfect custom flat brim hat. It's time to unleash your creativity and let your hat tell your story. Stand out from the crowd and wear your personality on your hat. After all, a custom flat brim hat is not just a hat; it's an extension of who you are.