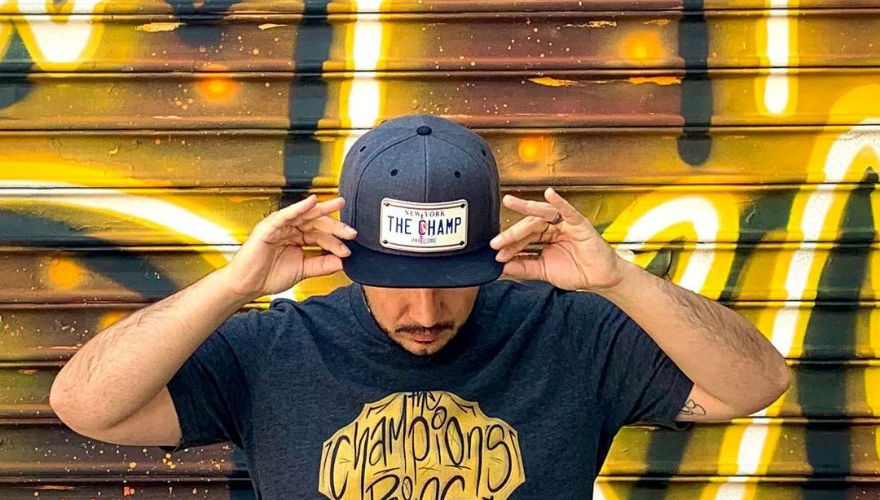 Introducing THE CHAMP - Mike Gambino
If you're sporting a custom logo hat that says THE CHAMP on it, then there must be an interesting story behind it. We had the opportunity to get the story behind the custom hat, straight from the source.
Meet Mike Gambino, a.k.a. "that.belt.guy" and wrestling belt enthusiast and collector. His story started as a young kid watching wrestling with his grandfather. Just like most fans, he wanted to pretend like he was the champ.
But a champ has to have a belt, right? 
Mike yearned for that championship belt but spending money on a wrestling belt wasn't at the top of the list of things that Mom and Dad wanted to spend money on. So, his dreams of putting that championship belt around his waist was "out of the question" according to his parents.
Fast forward many years ahead. Adult-Mike has a well paying job and he's made enough dough to become the champ. He decided to spend his own hard-earned money and bought his first wrestling belt followed by many, many more. We're talking over 50 more! 
Mike became a hardcore collector right around 2006 and he hasn't stopped since. What started out as a hobby has become a lifestyle and a way to connect with other enthusiasts. 
Drop in the ability to connect with like-minded people all around the world via social media, and you have a built-in audience and following. So, as he scoured the internet to look for custom logo hats to promote his IG and Twitch handles, he stumbled across CityLocs and found a tag team partner to help promote his passion with custom hats with a logo.
Since he's "always wearing a hat" and loves to represent Queens, New York, the NY license plate custom hat fit just what he was looking for and THE CHAMP was born. The easiest way Mike has been able to connect with other enthusiasts is through his custom snapback hats, with Mike's favorite being the Custom Image Hat.
An Expensive Hobby
Although he loves what has become a quite expensive hobby, he still holds a regular full-time job to keep this passion fun while not feeling like another job. He has enjoyed "just winging it, and hopes to inspire other people to do whatever the hell they want to do, and let it evolve on its own."
This perspective has led him to streaming gaming and interviews on Twitch and helped him merge this with belt collecting at the same time. Being in the game of promoting his brand and various profiles across platforms, his previous purchase of the NY License Plate Custom Hat brought him back looking for another hit as the hat would spark conversation at various spots around Queens.
From the local bagel shop to Target, "that.belt.guy" would get compliments and questions about his custom snapback hat that has further allowed him to share his passion. 
When we asked him about his most prized belt, he couldn't pick just one. Most of his favorites were the WWF belts since they hold more value as the name changed to WWE around 2002. He also has a 2006 AWA belt that "is nearly impossible to find today" but he is really excited about a full custom belt that is coming that Mike says is "gonna be my baby!"
THE CHAMP holds about $10K in wrestling belts 
He has no plans on stopping anytime soon but we think he might have another passion on the horizon - custom hats with logos.
He has even expanded his custom hat collection. His custom hats include a custom logo hat with his own logo on it which he said was "even sicker" as well as a yellow NY License Plate custom hat with "The Champion's Ring." For the fall and winter Mike is all about his New York License Plate Beanie; it's a custom beanie that reps his home state with a New York license plate, and it keeps his head warm during those cold months.
Featured Products
New York License Plate Hat
Rep your brand just like THE CHAMP does with your very own New York License Plate Custom Hat. Different hat styles, patterns, and custom text options mean you can make this hat all yours. Choose from Snapback, Trucker, or Flex Fit and over 14 colors. 


New York License Plate Beanie
It's getting cold in The Empire State! Our New York License Plate Beanie is another great option for your brand. You can customize your own design, or grab a license plate beanie to show off your state. With a variety of customization options, you can show-off your company during fall and winter.
Custom Image Hat
Looking for even more personalization? Grab one of our Custom Image Hats. These custom hats with logos on them can be used for virtually anything. Start with your patch image and shape, then choose your hat style; pick from FlexFit, Trucker, or Snapback. Upload your own graphic into our design software, add to cart, and your completely personalized custom image hats will be on their way to you.