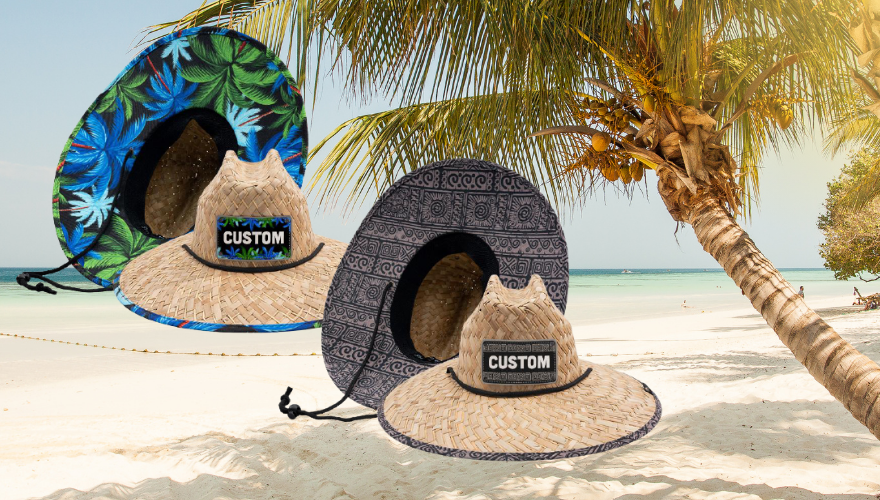 How To Pick The Perfect Custom Hat This Summer
Hat people know, there's no wrong time of year to make a statement with some awesome headgear. 
Still, caps and hats of all kinds become even more popular in the warmer months as we spend more time hanging outside in the sun. 
With over 12 kinds of hats to choose from at CityLocs, you've got nothing but options this summer. From straw hats, to trucker hats, to custom license plate hats, and more, here's how to find the perfect lid for you...
Choose Your Style 
Finding the right style hat is the first step to picking the perfect summer lid. Citylocs has a huge variety of hat styles to choose from, so you will be able to find the perfect one to go with your summer vibes.  Custom straw hats are one of our new and epic styles that are perfect for the summer. You can rock a beach day with a straw hat with your custom print. 
Our license plates hats -- that you can personalize to whatever state you desire --is another super popular cap. Have your favorite state always with you, with this awesome custom hat.
For our proud, hard working blue collar customers, we have work hats that are comfortable, breathable, and will last the test of time. Plus you can add custom text to all of our various brandable designs. 
These are just a few of the many custom hat styles CityLocs has to offer. Click here to check out the rest of CityLocs custom headwear. 
Choose Your Fit 
Once you have chosen the perfect style, you can choose which fit you want. Most of our hats have multiple styles to choose from like snapback, trucker, flex fit, and more.
Whatever your preferred fit is, you can find it at CityLocs. 
Plus, with over 12 colors to choose from you will be able to pick out a hat that is just right for you and your style. 
You can check out all of our different fits and colors by looking through our headwear page. 
Customize!
Next, you get to customize your hat!
Based on the style you choose there are many different ways you can customize it. 
If you pick the license plate hat you can choose the state, design, color, and fit that's best for you. Then, add your name, nickname, business name, or whatever else you'd like. 
When you go for the custom image hats you can add a picture of your favorite doggo, a family photo, your business logo, and more. 
Need some inspiration? Check out some of the designs our customers have created! When you look through our headwear page you can see all of the possibilities for customizing your hat.
Be Your Own Brand 
Buying a custom-made CityLocs hat or two to keep your style fresh this summer is a great move no matter who you are. 
But if you're an entrepreneur or business owner, we can help take your brand even further with memorable apparel that you'll love to wear and give your clientele. 
Custom Gear Builds Recognition And Trust 
As a business owner you know that a little recognition goes a long way. Whether you're an artist, a mechanic, a laborer, or a consultant, having a modern and memorable look will help get you recognized and bring in more business. 
Why Citylocs Is A Great Way To Be Your Own Brand
If you're sick of the same cookie cutter caps and polo shirts that your competitors are sporting, you need company that knows how to stand out. 
Citylocs makes professional, custom apparel with an edge. From branded caps, t-shirts, gifts, and more -- if you can dream it, we can make it! 
Citylocs Is Experienced And Professional
We have been helping many people brand themselves for years. We are a highly professional and experienced company that strives to help businesses grow through branding with style. 
When you work with us we guarantee an excellent experience and your satisfaction. 
Modern, High Quality Products
CityLocs products come in a variety of styles so you can find the perfect product to brand yourself or your business. The products are incredibly high quality and comfortable. 
Whether you order one custom hat or 100, your satisfaction is our guarantee. If for any reason you aren't happy with your order, contact us and we will make it right!
Buy In Bulk For The Best  Prices
CityLocs is here to offer you a complete brand overhaul, and we make it more affordable than ever. When you buy in bulk for your staff or your customers, we give you the best deal around. 
Click here to check out some of our
reviews
from our valued customers, and see for yourself why you should be your own brand with Citylocs!