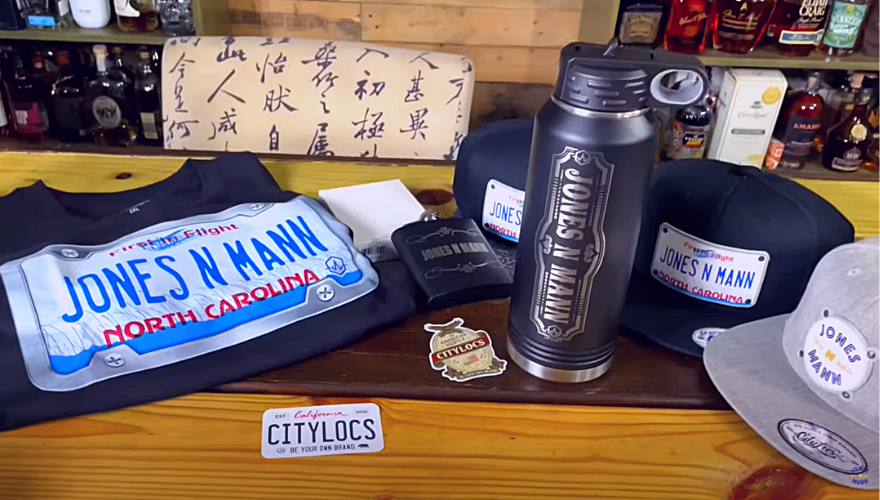 How Personalized License Plate Hats Can Help You Create A Fresh Brand For Yourself
CityLocs knows a lot about creating well-recognized brands. Producing unique, personalized gear for our customers is what we are all about, and we are proud to have many individuals, influencers, entrepreneurs, and businesses come to us for their custom gear needs. 
Most people are super busy with their work and personal life, so CityLocs saw the need for a quick and easy way for people to keep their look fresh and their personal brand strong!
Northeastern University says that your personal brand is your story. It portrays your unique identity and value. A good brand makes you more memorable and recognizable! 
CityLocs knows that self-branding can be expensive and time-consuming. That's exactly why we have created a better way to show yourself off in no time without breaking the bank...
Personalized License Plate Hats Have Brought Jones N Mann's Brand To The Next Level
Jones N Mann is an Influencer who has created quite a cool brand for himself with the help of CityLocs. 
Jones reviews spirits such as whiskey, rum, and tequila on social media platforms like Instagram, Youtube, and Tik Tok.
He has many followers who love seeing what he will say next, wear next, and what he thinks of the different drinks and products he tries out. 
Jones N Mann saw the value of being his own brand and he has partnered with CityLocs to create a unique and memorable look. 
He can almost always be seen wearing a personalized license plate hat with his name on it. He also has some CityLocs custom tees and bar products.
This fun influencer who calls himself "The Spirit Guide" loves working with CityLocs and has seen how beneficial self-branding has been in his life.
Personalized Bar Products And Accessories 
Along with custom hats, you can sometimes see Jones with a CityLocs flask or other personalized bar products.
Much like Mr. Mann, many of us enjoy trying out new and interesting drinks, as well as casually drinking the classics. CityLocs has a wide variety of sick bar products and accessories that you can personalize to bring your mini bar or man cave to the next level. 
If you want to make your space even better you can buy a custom bar sign, hanging bottle shape bottle opener, engraved leatherette coaster, or one of our other awesome bar products. 
Don't settle for a boring bar area or self-brand! With CityLocs you can create a look worth remembering.
Why You Should Go To CityLocs For All Of Your Custom Product Needs
CityLocs has been creating personalized hats, custom bar signs, clothing, and accessories with an urban edge for many years. 
Since 2006 we have been thoughtfully creating amazing personalized products for people all over the world-- including many artists and some features in hit television shows. 
We vow to continue working hard and creatively to give our customers the best products out there!
Our designs are…
Customizable Products
There is something for everyone at Citylocs! We have loads of colors, styles, and designs that you can choose from, and then add your custom text to bring it to the next level. From custom bar signs, to customizable tees, to home decor, to personalized license plate hats - You can find the perfect look to up your brand!
Super Affordable 
We offer affordable products, you can buy one for yourself or thousands for branding purposes. The more you buy the more you save with our bulk pricing. You can create your new fresh look on a budget when you work with CityLocs. 
Always High Quality 
We prioritize creating each product with high-quality materials that are sure to hold up over time. Many other custom shops will give you cheap and bland products, but we know how important it is to have pristine gear when branding yourself, so we only offer the best!
Unique And Fresh Look
CityLocs keeps it interesting and fresh! We are always coming up with new and cool designs to give you the best service we can. Being able to offer products that allow our customers to be their true self is what we strive for!
If you're interested in ordering branded hats, bar products, or other clothing and accessories, you can check out our full selection of customizable products now!