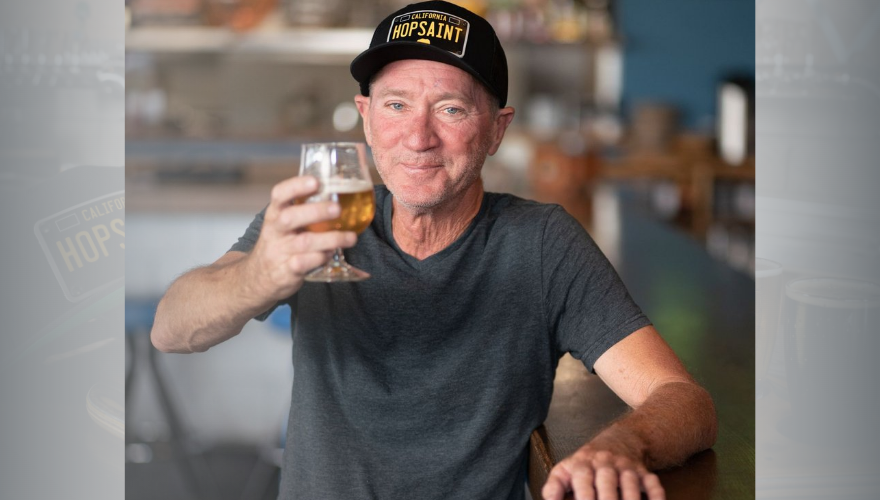 HopSaint Brewing Company Is Making A Statement Repping CityLocs Gear
Friday nights are made for good beer and delicious food. Relaxing with friends and family while kicking back a cold one is a perfect way to celebrate the weekend.

At HopSaint Brewing Company you can tap into these Friday night vibes all week!

This local South Bay business is the perfect atmosphere to come together with your crew, have fun, drink high-quality craft beer, and eat brunch or dinner. This spacious and hip brewery creates the perfect family-friendly environment for a good time!
The Story Of HopSaint Brewing Company
HopSaint Brewing Company was started with a vision to bring the South Bay community beer that was fresh and of superior quality.

Steven Roberts, the founder, and Brian Brewer, the brewmaster, share a passion for high-quality beer and saw the need for a business that would offer that in their area.

They grew tired of sitting in old dingy bars waiting for a flat beer in a dirty cup, and they knew other people were too.

With attentive service, a welcoming environment, and a delicious brew as their driving motivators, the team worked hard to build HopSaint Brewing Co. and make it the perfect place to sit down with a crisp and refreshing Mexican lager or a smooth and decadent porter.
Advice From The Founder
After years of running a successful business, Steve has some advice for other business owners. This entrepreneur believes it is essential to share wisdom with others and is willing to offer valuable insights to those growing their own businesses whenever he can

He emphasizes the need to build a good team that runs like a well-oiled machine. Steve believes that if you set up your business right with great staff from the beginning, you can enjoy what you do and still have time for family, friends, and surfing.

Family and community are everything to the HopSaint team!

When you walk in, you'll be welcomed by laughter from family sharing a drink and the aroma of something good cooking in the kitchen. Steve knows that being community-focused is a great way to grow your business.

The HopSaint team also understands the importance of branding and to make a statement as he does with CityLocs custom hats...

"CityLocs Has helped us brand ourselves. If someone comes in here and picks up our hat and they go, they own it, and they take it across the country. It says where they were and it says who we are. It's a great product, period."
A Unique Brewery
The heart of HopSaint Brewing Company is great beer! That was where the passion and the vision first began.

The brewery is the pride and joy of this thriving business. Giving each person unique, locally drafted, and high-quality craft beer to their community.

Offering natural ingredients, a wide variety of flavor sensations, and craftsmanship by using time-honored techniques to brew the perfect beer.

When you order a crowler with four fresh beers of your choosing, you'll see the incredible flavor sensations and craftsmanship behind each beer.
Delicious Food For All
The tasty food gives this business a unique advantage, beyond that of your typical brewery. You can come with buddies for a night out and grab a juicy burger to go with your fresh beer. Or you can bring your family for brunch and dive into a breakfast burrito that is out of this world.

The extensive menu has a wide variety of foods, so everyone can find the perfect dish to go along with their beer of choice.

Just like the beer at this brewpub, the food is high quality and finger-licking good.
All About The Environment
You'll feel at ease as you sit at the bar listening to good music and hear the sound of the draft pouring at HopSaint. As you take your first sip of a crisp beer, you'll feel the week's stress flow away. The HopSaint team worked hard to build an environment that you can relax in!

The welcoming space is perfect for a night out with friends or a family dinner with the kids. Everyone is welcome, and there is something here for everyone!

One crucial part of building the community environment is the selection of custom accessories offered at the restaurant. This allows people to join the HopSaint community and show it off with custom license plate hats or a personalized HopSaint Brewing Co . T-shirt.
Making A Statement With CityLocs Apparel
The team at HopSaint Brewing Co. knows how essential it is to make a statement. That is why they partnered with CityLocs to brand themselves with style!

HopSaint offers CityLocs custom hats and t-shirts with their business name on them.

These products allow them to make a big statement. The staff wears the steller custom gear, and they sell hats and shirts that showcase the brewpub to many people. Then those people wear the custom trucker hats or personalized t-shirts around town or even to other counties and states.

This not only builds the feeling of community between HopSaint and their patrons, but it also allows a natural way of bringing in more business.
CityLocs Hats & Shirts
CityLocs offers a wide variety of hats to choose from. HopSaint Brewery provides many of these customized hats at their business.

The hats come in many styles and colors, so everyone can find a hat they love. One crowd-pleaser is the custom license plates hats with HopSaint printed on the front.

People who prefer a more relaxed fit can try custom flex fit hats or custom trucker hats. Those who prefer a classic look can get black or grey custom snapback hats.

Customers can get a HopSaint t-shirt or tank top to go with their custom flex-fit hat. Or if they are not a hat person, they can just grab a T-shirt.

HopSaint Brewing Company is proud to be a part of the "CityLocs Club" and offer these high-quality products to their customers.