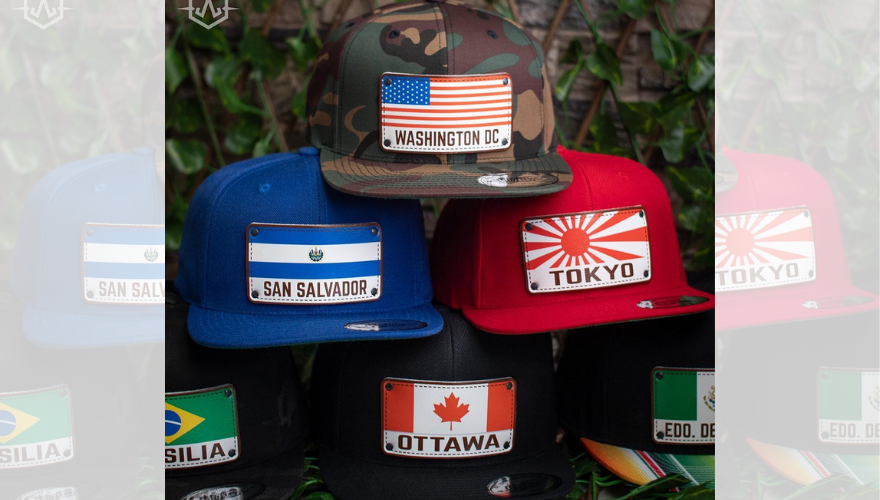 Custom License Plate Hats, State Flags, Wood Jax? Which Is Right For Me?
Are you a hat person who wants to add on to their collection?

Or perhaps, you are looking for the perfect hat to compliment your style?

Custom hats are fun, stylish, and make excellent conversation starters. With so many great custom options at CityLocs, choosing which hat is right for you can be tricky.

You don't have to choose just one, but having some knowledge about what hats will work best for you is a game-changer!

CityLocs knows the value of a good hat and wants to help you pick the perfect hat!
Choosing The Perfect Custom Hat
Your style can say a lot about you, and the right hat can make or break your look. Some people know right away what they like and want in a hat. At the same time, others need a little help picking the right accessory

With so many options and things to consider when choosing a hat, let our style experts at CityLocs guide you in finding the perfect hat!
Things to consider…
Many factors go into picking the perfect hat for yourself or a loved one. Some of the mains things to consider are; face shape, sense of style, personality, lifestyle, material, and the hat selection you have available.


Your Face Shape
You are free to wear whatever type of hat you desire, but if you are curious about which type would best complicate your face, here are some tips!

People with round faces should lean towards hats with hard angles and high crows to balance their faces. License plate hats in the snapback style are the perfect fit!

If you have more of a square-shaped face, going with caps with soft lines such as a state flag hat in a trucker style will soften your look in the best way.

Your choices are pretty wide when you have a heart-shaped face, although you should avoid large visors and wide crowns.

Individuals with long faces should wear shorter hats that cover more of their forehead for the most flattering look.

Those with oval faces are pretty lucky and can wear just about any hat style and rock it! You can wear wood jax , country flag hats, or whatever you desire.

No matter what your face shape is, CityLocs has the perfect hat for you!
Your Fashion Style
Style is a huge part of picking your hat. Although some people wear a little bit of everything, most people have clothing and accessories they prefer.

Picking a hat that goes with your style is a great way to ensure you have a killer look!

Consider what lids would look best with your wardrobe. If you have a skater or surfer vibe, then a wood jax or license plate hat in a snapback style can bring your look to the next level.

A flex-fit work hat can be the perfect accessory for those who are proud blue-collar workers that have a casual vibe.

There are hat types, designs, and colors for every kind of style at CityLocs!
Your Personality
The right cap will help you show off your unique personality!

Are you a fun person who loves bright colors and interesting designs? Pick out a hat with a multicolored bright visor and an exciting custom text that makes you stand out.

Do you consider yourself a laid-back person? Try an engraved leather trucker hat with a relaxed custom text.

Is your state or country an important part of who you are? We have the perfect lids to show off your passion. Check out our Mexican license plates hats, country flag hats, and US state flag hats.

Your Lifestyle
Life looks a little different for everyone! It is essential to consider what your life looks like when picking a hat. You can choose one that will work practically with your day-to-day life, a cap for special occasions, or both.

Are you rocking the dad life? Get a hat that says " girl dad" in your preferred style.

Do you work as a mechanic or laborer? Look for a hat that you can comfortably wear throughout the workday.

Considering your lifestyle is an important part of picking the right hat!
The Material
Picking a hat that has been made with high-quality material is important for longevity and comfort!

Hats are made from many different materials and picking the right material for your needs is an important step in choosing the perfect lid.

Choosing a hat for work versus a hat to flex in is a part of picking the material. For a work cap, you will want something flexible and breathable. Whereas for a hat for special occasions you may want a more classy look with a leather or wood patch.

All of CityLocs hats are made with high-quality materials that are made to last!
CityLocs Selection Of Custom Hats
Once you have established your face shape and have a good idea about what types of lifestyle, personality, and style you have, you can check out all of the hats that CityLocs has to offer.

Pick from license plate hats, state flag hats, country hats, wood jax lids, work hats, image hats and so many more!

Click here to look at all of the custom hat options at CityLocs or choose your style below!

Licence Plate Hats