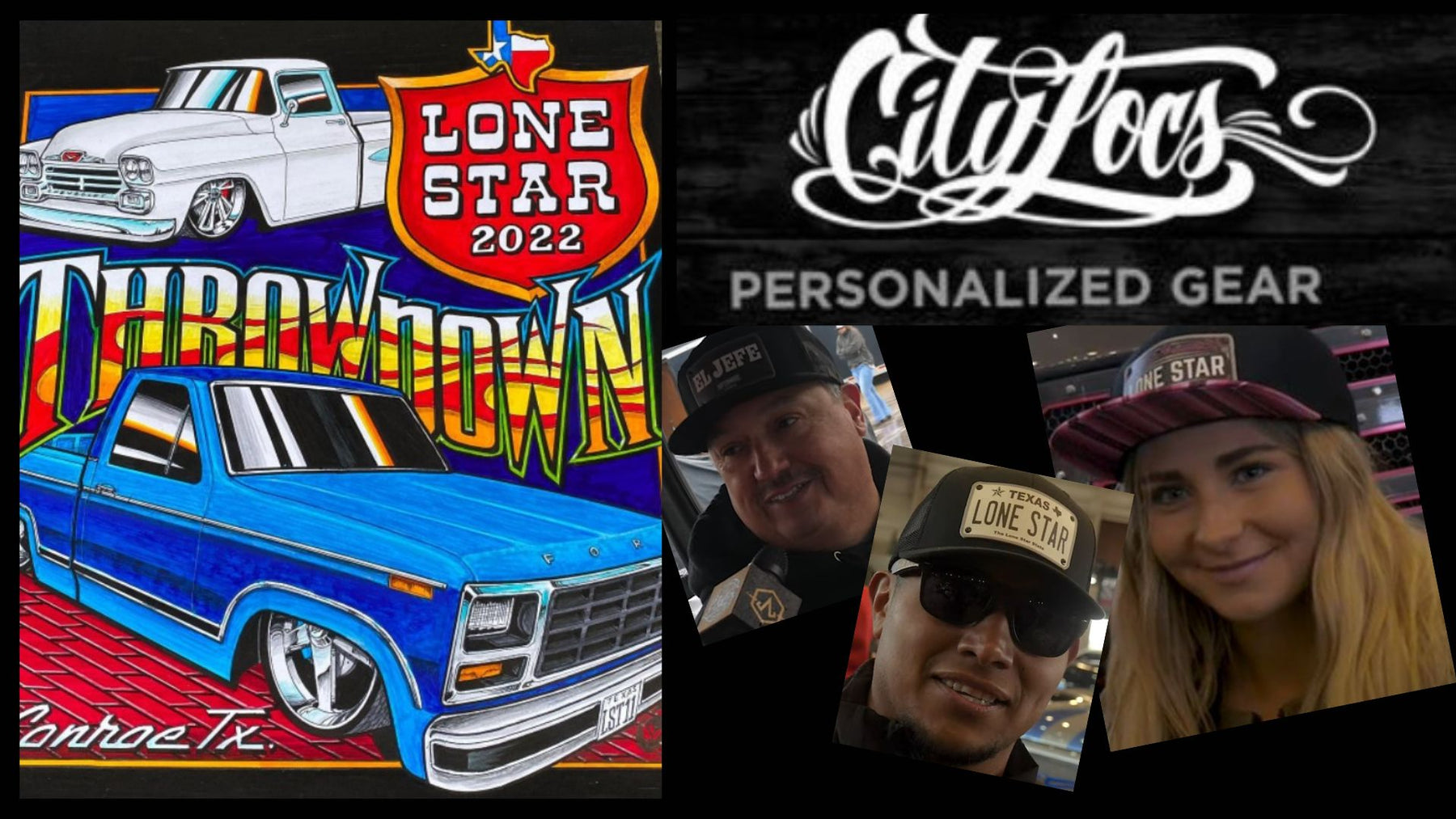 Citylocs Custom Hats At Lone Star Throwdown
If you were lucky enough to make it out to this year's Lone Star Throwdown there's a good chance you saw us - and better yet, we saw you! 
We loved seeing so many people repping our custom hats and hearing how many compliments you received while wearing them.
We strive to make custom, quality pieces that help you to express your authentic self, so we absolutely love when we get to see you rocking our gear.
If you didn't order your custom hat in time to rep it this year, no worries! We look forward to seeing how you express yourself with our hot new merch at next year's throwdown.
I will say, the customized trucks at this year's show were almost as slick at our newest hat selection - but I guess we might be a little biased. 
Gorgeous trucks, great food and CityLocs merch - the perfect trifecta! 
Lone Star Throwdown
Based in Conroe, Texas, this show just completed its10th year of excellence and growth.
Viair Corp puts it best when they describe this unique event, "A small truck gathering in Conroe, Texas, started in 2012 with only 600 vehicles has now grown into what many consider to be the World's Best Truck Show: Lone Star Throwdown. Its unique layout allowed attendees to cruise in their vehicles on the winding path around the entirety of the grounds. There was a wide variety of vehicles ranging from bagged mini and full-size trucks to lifted off-road builds and everything in-between. They were all competing for the top award, Best of Show!" 
A truck show that started with humble beginnings, LST now sets attendance records including car and spectator count as well as pulling in vehicles and attendees from all corners of the nation and even other countries. 
Year after year, the show organizers have been selling out pre-registrations long before the show date…in fact they actually chose to put a limit on how many vehicles they will let into the showgrounds now that it is so popular!
Since 2012, LST has become a staple show for truck and car enthusiasts. After the pandemic caused much of the world to lay low for the past couple of years, 2022 had attendees out and happy to be touring some unique rides in full force.
The weather at LST this year was cold and rainy, but our vendors and attendees rallied together and had a blast regardless. 
Thanks to plenty of covered showrooms, attendees still had plenty of opportunity to stay dry as they toured. From classics, to late-models, and everything in between, this custom truck, car, and bike show is always a feast for the eyes.
For those who braved the weather, the phenomenal LST vendors kept everyone well fed, warmly clothed with hot merch, and sipping on warm beverages day after day. 
Lone Star Throwdown 2023 
If you missed this year's LST, it's never too early to save the date for 2023. Keep a close eye on Lone Star's website for updates. 
At CityLocs, we absolutely love being out in the community and supporting this event every year, and it's always a celebration when we see our gear being featured by the Lone Star patrons.
Here's just a few of the killer custom hats you might come across at these events…
FEATURED PRODUCTS

Custom Sarape Hats
Our Custom Sarape Hats currently have 7 vibrant options sure to fit whatever look you're going for.
Let our beautifully designed custom sarape hats do all the talking…or add your own spin with custom own text.
The color combinations on this hat are absolutely gorgeous. Our design team truly outdid themselves with this one!

Custom US License Plate Hats
There's no better way to make a name for yourself or your business than having a fully customized hat to show off your own personal style and flair.
We all have a state that is special to us or that we want to represent with pride. Whether it's where you grew up, started your family, or a goal destination – we've got you covered with our uniquely designed Custom US License Plate Hats.
With CityLocs custom US license plate hats, representing your state has never been so easy and stylish!

Custom Trucker Hats
Our work hats feature a great trucker design and are the perfect way to represent your growing business or brand. These Custom Image Hats are the ideal go-to if you're looking for a cool custom hat with great leather detail .
Some of our most popular designs include auto body shops, trucking, fitness and boxing, construction and many more!
No matter your culture, background or personal style - CityLocs is guaranteed to have a customized design that we know you'll love.
Our team wholeheartedly believes in celebrating the individuality of our customers, and we think everyone should represent their own style and be their own brand.
We know that self-branding can be expensive and time consuming. That's why we have created a better way to show your style off without breaking the bank!
And while all of our hats like our custom sarape hats and custom trucker hats are trendy, they can also be quite meaningful. Custom hats that represent your old highschool or college ball team is a great way to take a nostalgic trip down memory lane.
Place an order with your customized apparel today and let us help you hold onto old memories and commemorate new ones!