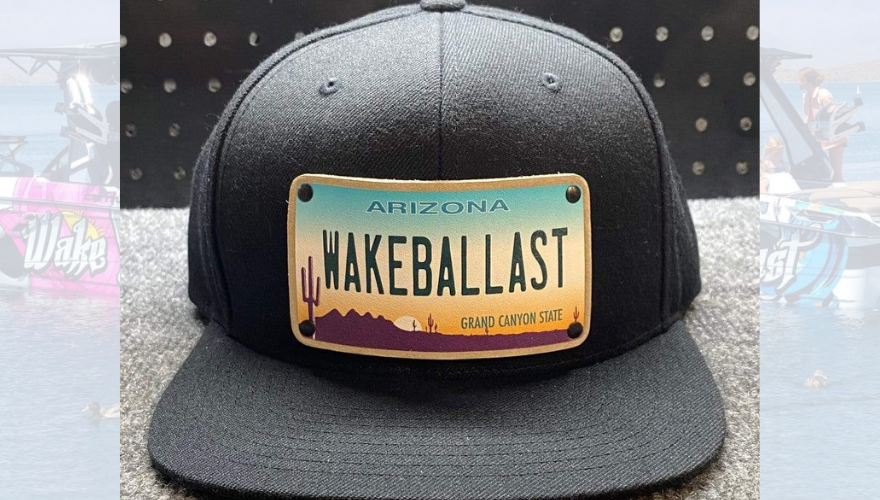 Beni from Wake Ballast Reps His Company with a CityLocs Custom Leather Patch Hat
Beni was surfing (no pun intended) Instagram® one day when saw an ad for a CityLocs custom leather patch hat and knew that it was the perfect thing to promote his business.
His business? Wake Ballast. Wake Ballast is your go-to for all things Wakesurf. Based out of California, Beni fell in love with the CityLocs License Plate Collection. He chose a custom trucker hat with a 60's style California License Plate Hat. This casual custom patch hat shows off Wake Ballast's laid back vibe, while also being a showpiece for the company.
Wake Ballast + CityLocs
Within 24-hours of seeing the ad, Beni jumped right in and ordered his custom patch hat. With a background in advertising and promotion, Beni knew that this custom leather patch hat was a super easy and fun way to promote his business.
When you have a unique and forward-thinking business, like Beni, you need a unique and forward-thinking way to promote it; check out his custom hat in action. Our custom leather patch hats are a great way to elevate your brand and create wearable merchandise that your customers and business contacts can wear repeatedly.
A new-age business card.
When was the last time you carried around a business card? When was the last time you handed one out? Some big companies still use them, but there are tons of digital and merch alternatives that can satisfy that same goal.
Plus, a business card is easy to lose. A custom leather patch hat… much harder to lose! As long as your company's name is on there, your customers and potential customers will be able to find you online.
This is creative marketing.
When you outfit your team in custom patch hats, or give away a trucker hat with a custom patch, you're building brand awareness while still connecting with your people. A custom leather patch hat has the power to get the word out about your business without making people feel like they're exposed to marketing or advertisement. 
"This is one of the coolest hats I've seen in a long time"
Beni instantly knew that a CityLocs custom hat with a leather patch was going to up-level the way he reps his brand. But his hat is more than just merch; it's his brand identity, and it represents it perfectly.
If you're in a competitive industry, and fighting for brand recognition, then custom patch hats are the right choice for marketing your business. It's a great way to stand out from the crowd, create a buzz, and stay font-of-mind.
Even though fashion trends change (almost every waking minute), custom trucker hats with patches have managed to keep up with these trends; especially when it comes to a younger audience. 
Hats are incredibly functional items that are used by almost everyone at one point or another.
All you need is the sun to shine and you'll have your customers reaching for your hat.
You aren't tied to one style or design. At CityLocs we are stoked to offer a ton of different designs and styles that you can put together so that your custom hat matches your marketing strategy. 
CityLocs custom leather patch hats are easily customisable and affordable. With no minimum order, you can experiment with a few different styles and designs before deciding on the one that fits your brand best.
Outperform your competitors with a custom leather patch hat.
Featured Products
Make your License Plate hat as unique as your company. With a wide variety of styles, patterns, and custom text options, you can make your License plate hats as unique as your company. Get your California 60's Plate Hat right here.
Looking for even more personalization? Grab one of our custom leather patch hats. Start with your hat style; pick from FlexFit, Trucker, or Snapback. Choose your leather patch shape. Select your hat style. Upload your own graphic  into our design software, add to cart, and your completely personalized custom leather patch hats will be on their way to you!
Want a simple and straight-forward Trucker hat with a leather patch? Then look no further than our Work Hat collection. Two lines to customize on a diverse group of leather patches, our Work Hats are perfect to outfit your team or your loyal customers.