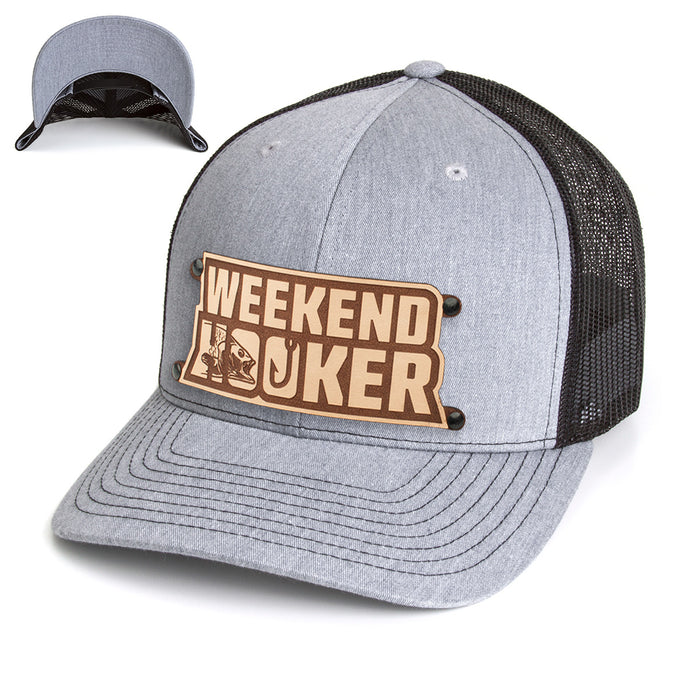 Weekend Hooker Fishing Hat
Original price
$ 29.99
-
Original price
$ 29.99
Attention, all weekend fishing warriors! Are you counting down the hours until the weekend so you can take off and hit your favorite fishing hole? If you're a passionate angler who loves nothing more than spending time on the water with a rod in your hand, we've got the perfect accessory for you - the "Weekend Hooker" fishing hat!

Crafted with durable and high-quality materials, this trucker hat is perfect for long days out on the water. The breathable mesh construction keeps you cool and comfortable, even during the hottest summer months. And with its adjustable strap, it's guaranteed to fit comfortably on any head size.
But what really sets this fishing hat apart is its fun and catchy design. The front of the hat proudly displays the words "Weekend Hooker" in bold letters with an image of a fish just about to take the hook, letting everyone know that you're serious about your fishing game. And with its classic and timeless style, this hat is sure to become a favorite in your fishing gear for years to come.
So if you're looking for a hat that showcases your true passion for fishing, look no further than our "Weekend Hooker" fishing hat. Get yours today and wear it with pride on your next weekend fishing trip.
How is the patch attached?

At our company, we take pride in the exceptional quality and craftsmanship of our hats, ensuring that each leather patch is securely fastened using a time-tested riveting technique. This method involves the use of high-grade metal rivets that create a strong and durable bond between the hat and the leather patch. As a result, the patches remain securely in place, even during daily wear and exposure to various weather conditions. You can rest assured that our riveted patches not only add a unique and stylish touch to our hats but also offer lasting durability and security for your peace of mind.
Do you have fitted hat options?

No. All hats are an adjustable snapback stye - one size fits all
Where does my order ship from?

We are a US based company. All orders are customized and shipped from our warehouse Southern California.